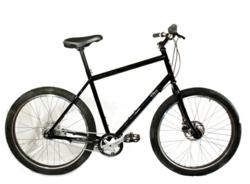 To lose weight, you need to do an activity you love. I love cycling, so riding A New Leaf inspired me to exercise every day.
Burlington, VT (PRWEB) June 20, 2011
Losing large amounts of weight can be extremely difficult, but a bicycle built to hold 550 pounds is making significant weight loss easier and much more fun. In tonight's episode of ABC's Extreme Makeover: Weight Loss Edition, James Garrison received a bike from Super Sized Cycles to provide him with an enjoyable way to exercise. He rode at least two to three hours a day, in addition to other types of exercise, during his year on Extreme Makeover, and lost the greatest amount of weight ever lost on television. "That's what got me through the exercise," Garrison enthused. "I never got tired of riding my bike. It was the one thing I never got tired of. The other things—treadmills, jogging, weights—can be mind numbing. When I was biking I wasn't even thinking about exercise, I was thinking about being daring and having fun."
Joan Denizot is the founder of Super Sized Cycles, which produces its own brand of bicycles, Zize Bikes, which is the only line of bicycles in the world designed for people who are big. With a positive attitude, she encourages people of all sizes to get outside and enjoy the outdoors by cycling.
Invite this upbeat and fun guest to answer:

Why do so many larger people give up on cycling?
What kind of frustration do big people face when using traditional bikes?
What makes your bikes stronger and safer than traditional bicycles?
Why do so many people enjoy biking more than other forms of exercise?
What are other inspirational stories from people who have gotten Zize bikes?
The episode featuring Garrison and his Zize Bike airs tonight, June 20th, 2011 at 10:00 p.m. E.T.
ABOUT SUPER SIZED CYCLES: Joan Denizot has been riding bikes her entire life. When looking to ride after a long hiatus during which she gained more than a few pounds, she was informed that she wasn't the right size for a bicycle. This was the impetus for the creation of Zize, a positive movement of empowerment and self respect, and her company, Super Sized Cycles, which makes innovative and comfortable bicycles able to hold 550 pounds. Denizot has been featured by The New York Times, Fox 44 News in Vermont, CBS WCAX, NECN (New England Cable Network), Gannett worldwide distribution, American Bicyclist, Champlain Business Journal, and others.
CONTACT: Joan Denizot, (802) 238-9804 (VT); Joan(at)SuperSizedCycles(dot)com
###