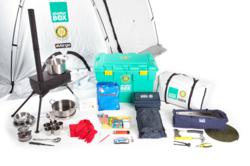 Service to our customers and, as importantly, to the community, is at the heart of our corporate values," said Susan Moyé, The Neiman Marcus Group's director of corporate citizenship and volunteerism.
Sarasota, Florida (PRWEB) June 21, 2011
While the weather continued to wreak havoc on families across the globe over the last several months, Neiman Marcus and Bergdorf Goodman launched an employee giving campaign, which has raised close to $95,000 for ShelterBox USA.
ShelterBox USA is the U.S. affiliate of ShelterBox, an international disaster relief organization that provides shelter and life-saving equipment to disaster survivors worldwide.
More than 14,000 Neiman Marcus and Bergdorf Goodman employees throughout the nation participated in the company's "Give Share Care" program, which encourages employee volunteerism and philanthropy in their communities.
"We're incredibly pleased to work with The Neiman Marcus Group and their employees again this year," said Emily Sperling, president of ShelterBox USA.
After a massive earthquake struck Haiti in January 2010, Neiman Marcus and Bergdorf Goodman employees participated in the "Hope, Help & Relief Haiti" initiative in partnership with Donna Karan's Urban Zen Foundation. ShelterBox tents were set up at various store locations to raise awareness, and the company's employees raised $70,000 to help the disaster victims.
"We are grateful for their employees' generosity and commitment to our mission," added Sperling. "With their help, we'll be able to continue helping families rebuild their lives after losing everything in a disaster."
"Service to our customers and, as importantly, to the community, is at the heart of our corporate values," said Susan Moyé, The Neiman Marcus Group's director of corporate citizenship and volunteerism. "We are so proud of our associates who have given their time and their talent to help others, and demonstrate our corporate commitment to community through their generosity and personal volunteer efforts."
ABOUT THE NEIMAN MARCUS GROUP
The Neiman Marcus Group values civic involvement and community service. The heart of its corporate philosophy is to be an engaged and active citizen. Its stores are dedicated to serving its communities and supporting worthwhile causes. They are tireless and enthusiastic sponsors of charity fashion shows, luncheons and special events all across the country.
The United Way has been a company-wide focus for The Neiman Marcus Group for 50 years. In addition to associate pledges, The Neiman Marcus Group supports the United Way with a corporate contribution to the United Way General Fund.
The Neiman Marcus Group stores and divisions also embrace and support other causes that resonate with its employees. The company's associates annually donate more than a million dollars and volunteer thousands of hours in their communities, working with organizations that address health and human service issues such as homelessness, hunger, health, poverty, domestic violence, and substance abuse. They serve on the boards of nonprofit organizations, read to children with limited English proficiency, organize donations at food and clothing banks, deliver meals, participate in charity walks, plant trees and organize community clean-up events.
ABOUT SHELTERBOX USA
Since 2000, ShelterBox has provided shelter, warmth and dignity following more than 140 disasters in over 70 countries. ShelterBox instantly responds to earthquake, volcano, flood, hurricane, cyclone, tsunami or conflict by delivering boxes of aid. Each iconic green ShelterBox contains a disaster relief tent for an extended family, stove, blankets and water filtration system, among other tools for survival. ShelterBox's American affiliate, ShelterBox USA is headquartered in Sarasota, Florida. Individual tax-deductible donations to ShelterBox USA can be made at http://www.shelterboxusa.org, (941) 907-6036 or via text message by sending SHELTER to 20222 for a one-time $10 donation. Location and time specific donations cannot be accepted.
# # #