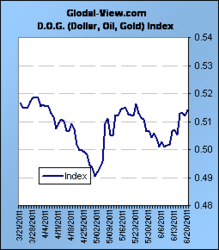 (PRWEB) June 22, 2011
GLOBAL-VIEW.COM Announces the D.O.G. Index. The Global-View.com D.O.G. Index was initially created due to the US dollar trading poorly like a "DOG". The Index provides a daily measurement for the Forex Trading market of the loss of dollar purchasing power against key benchmarks of investor confidence:
"Most successful traders keep track of more than one market at a time when trading. They keep an eye on a number of key Currency Trading relationships, and also watch the price of benchmark instruments such as gold and oil. In an effort to summarize the movement of all these items", says company co-founder Jay Meisler, "Global-view.com, the creator of the original Forex Forum,has developed the "D.O.G." (Dollar, Gold and Oil) index. The "D.O.G." index reduces to a single number the daily value of the dollar for top Forex Trading currencies, gold and oil. The index falls as the purchasing power of USD weakens and rises as it gains."
As demonstrate by the chart, the visit below .50 was a brief one and the Index has stayed above this level ever since recovering this level in early May. Even when markets tried to retrace, it held above the .50 level on a closing basis, which with hindsight, was an indicator of what followed as the dollar rebounded, oil fell off and gold steadied. Whether this is just a coincidence or a statistical fluke only time will tell but the way the D.O.G. Index performed around the .50 level proved to be a good indicator of risk sentiment and foreshadowed the recent moves in global markets to a "risk off" mood.
"The D.O.G." index is based on well thought out assumptions, but to be applicable to Currency Trading and other global markets, it needed to develop statistical data over time to see how it performs historically." Continued Meisler, "What caught our eye was when the Index fell through the .50 level in April of this year, which indicated a 50% loss in the dollar's purchasing power since the Euro was launched on January 1, 1999. It was not clear whether this was a significant event as the D.O.G. Index was only being tracked for a few months. However, what occurred afterwards suggested the .50 level might be significant and the D.O.G. Index a valid indicator."
The latest D.O.G. Index is posted on the Global-View Forex Forum"D.O.G." each day.
For more details go to: http://www.global-view.com/forex-trading-tools/dogcom.html
###