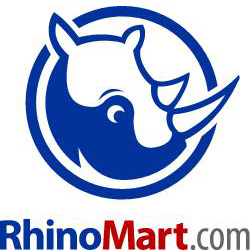 Ogdensburg NY (PRWEB) June 21, 2011
Retailers and eBay sellers benefit from having access to a variety of affordable and quality wholesale merchandise. By purchasing large quantities of marked-down goods, a retailer or seller is always able to have a stocked inventory, from which products are sold to customers for a profit. With the largest selection of wholesale products on the internet, RhinoMart.com has taken these points into consideration and developed a new and easy-to-use website. Offering below-wholesale discounts to sellers and retailers, RhinoMart.com has lowered its minimum order, updates its selection of merchandise daily, and offers products in quantities ranging from small sets to large lots.
Part of RhinoMart.com's new design is an expanded selection of products. More than 220,000 products are available through the site currently, and this amount is expected to expand to 1 million by July. RhinoMart.com's selection includes cases, pallets, and lots of closeout or liquidation merchandise across a broad spectrum of product categories. Electronics, home décor, fashion, handbags, and accessories are some of the more popular items, and party supplies, baby products, domestics, food, and office supplies are just some of the other items available. Seasonal merchandise, additionally, is sold throughout the year and changes to reflect holidays or other notable happenings, such as back to school sales.
Retailers, eBay sellers, and nonprofits all benefit from using a site like RhinoMart.com. Items often come to RhinoMart.com from retailers. These returns or clearance items, also called closeouts or liquidations, are purchased by RhinoMart.com, who then sells them to other retailers or sellers. A retailer or seller purchasing from RhinoMart.com is able to sell the marked-down merchandise for a profit, and establishing a relationship with a wholesale supplier, such as RhinoMart.com, allows such an entity to keep its inventory regularly stocked and to take advantage of regular discounts and new products.
In addition to offering steep discounts, RhinoMart.com presents its merchandise in multiple options for order. Large pallets or lots are often the only options from some wholesalers, and while RhinoMart.com offers both of these, smaller cases of one type of item are also available. This way, a retailer or seller can purchase one item in a larger quantity without having to sort or sift through the thousands of products in a lot or pallet. Additionally, items sold in cases range from discounted or discontinued products recently taken off shelves to the latest trends or technology, which is particularly important for fashion or electronic retailers.
Minimum orders, as a result of RhinoMart.com's new changes, are now $49.99; for international customers, this amount is $1,500.00. Setting up an account is necessary for retailers or sellers looking to use RhinoMart.com as a wholesale supplier, and a reseller's permit may be needed in some locations. For efficiency and quick delivery to customers, RhinoMart.com has more than 240 warehouse locations across the United States and, as of July 1, 2011, will offer around-the-clock telephone support.
# # #