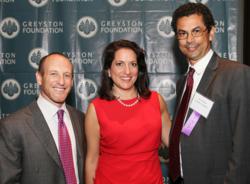 Yonkers, NY (PRWEB) June 20, 2011
Greyston Foundation is pleased to announce that over $300,000 was raised at the Greyston Annual Benefit held at X2O Xaviars on the Hudson. B-Lab Co-Founder, Andrew Kassoy, and Greyston Board Member and Bakery Volunteer, Ruth Suzman, were honored at the event for their exceptional service and dedication.
"It was a spectacular evening," said Edward Falkenberg, Chair of the Board of Directors. "This was our biggest turnout in years with over 300 people in attendance. We are extremely grateful to the community for their ongoing support for the Foundation."
A highlight of the evening was the dedication of the Greyston Bakery's PathMaking Center to Ruth Suzman. In honor of her long-standing and valued commitment to Greyston, the new Greyston PathMaking Center will be renamed, "Ruth Suzman PathMaking Center" and will feature a library, meeting rooms and computer work stations. The PathMaking Center will be a safe, confidential and high-tech environment for individuals who turn to Greyston for personal assistance.
Co-Chairs of the 2011 Greyston Annual Benefit include Carolyn Bess (Manhattan), Cheryl Dorsey (Manhattan), Patricia & Edward Falkenberg (Scarsdale), Sara Horowitz (Brooklyn), Caryl & John Orlando (Scarsdale) and Suzanne & Andrew Yearley (Scarsdale). The Honorary Chair was United States Senator Kirsten Gillibrand.
All funds raised at the event will support Greyston Foundation's community development efforts, which it utilizes as a means of achieving personal and community transformation. Well-known for its Bakery, Greyston also provides jobs, affordable housing for disadvantaged individuals, medical and holistic care to adults living with HIV, high-quality child care, and teaches adolescents valuable life skills, engages public school children in hands-on environment education and supplies employment and training to the formerly homeless and previously incarcerated.
For more information about Greyston Foundation, please contact Jonathan Greengrass at 914-376-3900 ext. 295, visit http://www.greyston.org or email jonathang(at)greyston(dot)org.
About the Greyston Foundation
Established in 1984, Greyston Foundation is an entrepreneurial and spiritually grounded not-for-profit organization that serves more than 2,200 largely minority, Yonkers citizens, and employs more than 140 staff, 60% of whom are entry level. The organization creates opportunities for families and individuals to break the cycle of poverty and forge a path to self-sufficiency and community transformation. Greyston provides jobs, workforce development, low-income housing, youth services and health care. Initiatives include a Child Care Center, Community Gardens Program, Family & Youth Services, Maitri Adult Day Healthcare Program, Yonkers Green Connection, and Greyston Bakery.
###