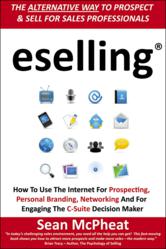 "In today's challenging sales environment, you need all the help you can get! This fast-moving book shows you how to attract more prospects and make more sales - the modern way" Brian Tracy - Author, The Psychology of Selling
(PRWEB UK) 22 June 2011
Sean McPheat's long awaited new book eselling® will be launched in early July 2011 and in doing so will create an alternative way to prospect and sell for sales professionals, entrepreneurs and business owners.
McPheat, who is widely regarded as a leading sales authority and futurist opens the lid on how to build your personal brand, how to network and how to position yourself as an authority within your industry. All of this is done via the internet rather than endless days of cold calling and knocking on doors.
McPheat says "The modern day buyer will take the shirt off your back if you'll let them. They are way more informed and are a lot more sales savvy due to the internet and they wouldn't think twice to play you off against the competition so when I sat down to write this book I wanted the end product to be something that would redress this balance of power!"
Sean McPheat is the founder and managing director of MTD Sales Training who have trained staff from over 1,500 different businesses and Sean himself has over 250 different media credits to his name and is featured on over 80,000 pages online.
"Having listened to the woes of the sales people that we've trained over the years they've been looking for a different approach to the way that they sell and eselling® does exactly that" added McPheat.
eselling® is due for release early July and you can receive a FREE 60 MINUTE webinar recording about eselling® at http://www.e-selling.com where you can also be added to the pre-launch notification list.
###