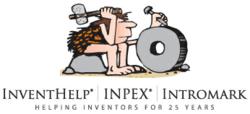 Pittsburgh, PA (PRWEB) June 22, 2011
InventHelp®, America's largest inventor service company, announces that one of its clients, an inventor from California, has designed an accessory that could protect a motorcyclist's eyes, nose and mouth from dust and debris. This invention is patented.
The "Shade Shield" face protector would feature a pair of sunglasses with a removable bandana-like covering attached to the bottom of the frame. This design could provide convenient face protection for motorcyclists, skateboarders, snowboarders, gardeners and construction workers by facilitating the prevention of objects from flying into the eyes, nose or mouth. A user would no longer need to wrap a bandana around their head for the protection. The Shade Shield would easily convert to a pair of sunglasses.
The Shade Shield would consist of a pair of modified sunglasses that would include a bandana-like cloth attached to the bottom of the frame. Micro screws attach the bandana to the sunglass frame by passing through breather holes sewn onto the bandana, making the bandana interchangeable.
InventHelp® is attempting to submit the invention to companies for review. If substantial interest is expressed, the company will attempt to negotiate for a sale or royalties for the inventor. For more information, telephone Dept. 09-GDA-3941 at (800) 851-6030.
# # #