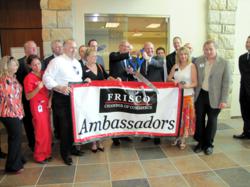 Frisco, TX (PRWEB) June 21, 2011
SomnoMed, a publicly listed company providing diagnostic and treatment solutions for Sleep Breathing Disorders, officially opened its new facility in Frisco, TX on Thursday June 16th with a ribbon-cutting ceremony attended by over 50 guests.
SomnoMed's entire Board of Directors were in attendance as were representatives from the Frisco City Council, Australian Trade Commission, Dallas Regional Chamber, Frisco Economic Development Corporation, Qantas and local sleep physicians, clinics and dentists.
SomnoMed's new 10,000 sq.ft. facility in Frisco, TX is the company's North American Headquarters. Global CEO and President of SomnoMed North America Ralf Barschow remarked "We are very pleased to be part of the Frisco community and look forward to serving our North American customers from this new facility".
For more information call (888) 447-6673 or go to http://www.somnomed.com.
###