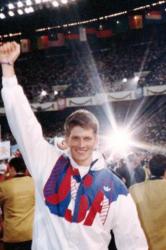 Schererville, IN (PRWEB) June 20, 2011
BMW of Schererville Hosts 2012 650i Test Drive Event with Ronald Urick!
BMW of Schererville is hosting a Test Drive Event with its Olympic Sponsor, Ronald Urick on June 22nd, 2011. Attendees will have the opportunity to test drive the all-new BMW 650i Convertible, the full lineup of BMW models and get behind the wheel of the competition. For every participant who test drives a vehicle at the event, BMW of North America will donate $10.00 to Team USA, up to a maximum donation of $200,000.
At the event, participants are also invited to cast their vote for one of three athletes to be supported by BMW on their journey to qualify for the 2012 Olympic Games.
Local area residents and media availability with Team USA athlete Ronald Urick, Canoeing Team, of Lemont, IL can discuss preparations towards qualifying for the Olympic Games and the need for support for Team USA.
To Register for this event, please click here to do so online or call 219-864-3390.
BMW of Schererville will host the event from 9:00AM-8:00PM on 06/22/2011. Participation by Ronald Urick is from Noon until 3:00PM.
The event will be held at BMW of Schererville,
1400 US Highway 41, Schererville, IN, 46375.
BMW Group is the proud Official Mobility Partner of the United States Olympic Committee (USOC). In the lead up to the London 2012 Olympic Games, BMW will apply its resources and technologies to advance the training and performance goals of the Olympic and Paralympic athletes of Team USA.
###