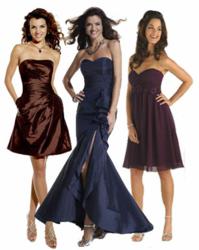 Today's bride has more of a choice and is not hindered by tradition
Port Jefferson Station, NY (PRWEB) June 22, 2011
Bridesmaid dresses have come a long way in the fashion scene. The styles are made to be even more flattering to the figure, from lace up mermaid styles to chiffon one shoulder dresses. No longer are bridesmaid dresses portrayed as frumpy or as only the typical A – line cut two toned dress.
Today, dresses are made of vibrant blends of luxurious fabrics every young lady would love to wear. Magic Moments, a NY based special occasion dress store, carries various styles and color trends for the fall 2011 bridesmaid dress season. Owner Elia Rubinstein, reported that for this season, both short and long dresses are popular. "Today's bride has more of a choice and is not hindered by tradition." Says Rubinstein. Some may have their attendants in a short dress, while the maid of honor wears a long form fitting dress in a complimentary color. Ultimately the choice is the brides, with vast styles and fabrics to choose from. However in our society, economics also comes into the decision making process. "Who would not love to wear a dress more than once!" says Alexa, a Sales Rep at Magic Moments. As a bridesmaid, taking part in a wedding can be costly, and to wear a figure flattering dress more than once is ideal.
The runway for the fall bridesmaid collection exhibited many designs with plenty of ruching, while also offering flattering looks for all sizes. One shoulder looks are ever so popular, with floral clusters adorning the hip, waist or shoulder to accentuate the contour of those areas. The fabric of choice, for the fall 2011 season are blends of chiffon and satin material in all shades of color. Another new trend, which has gained popularity over the past year and making more appearances than ever before are bridesmaid dresses with hidden pockets at the hip. Bridesmaids may not like to carry matching purses, but can conveniently carry their cell phone and lipstick hidden in their pockets.
In the fall season, autumn colors offer a beautiful array of warm tones especially when picking out a color scheme for bridesmaids. For this season, be prepared to see rockin' raspberry hues, along with brilliant bronze colors that look amazing with all skin tones. The newest colors for this autumn season is a nourishing Spicy nutmeg, dark olive, bursts of brilliant orange, and of course chocolate. Two toned bridesmaid dresses are always available, and are great choices but were limited on the runway for this season. Solid dresses have less of a "bridesmaid" look and so are easier to wear again for the next season. The color choices for fall are fabulous, warm and ever so flattering.
Magic Moments is an authorized retailer of many fabulous designers of bridesmaid dresses. Alfred Angelo, Forever Yours, Allure, House of Wu, Bill Levkoff, Bari Jay and Bella Formals offer some of the largest color choices available. Their quality and style are superior in the bridal fashion industry.
###