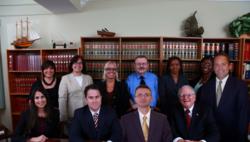 Melbourne, FL (PRWEB) June 22, 2011
Arcadier and Associates, P.A. is proud to announce two attorneys who have joined the firm: Mr. Stephen Biggie and Jeff Boston.
Jeff Boston is a criminal defense attorney who has been licensed to practice law in the state of Florida since 1998. Attorney Boston is a former prosecutor and public defender who has also worked as an associate for a large law firm in Orlando. He has represented thousands of satisfied clients, with hundreds of cases dropped by the prosecution on trial date or beforehand. Attorney Boston has a wealth of jury trial experience and is very comfortable in the courtroom.
Attorney Boston believes in and supports the motto "Justice is blind." He also knows that an individual accused of a crime is handicapped without the foresight of an attorney for guidance. Attorney Boston provides insight based on common sense and experience. With the law, experience counts, as does common sense.
Stephen J Biggie, Esq. is a graduate from the Barry University School of Law in Orlando, Florida in 2010 and is a member of the Florida Bar and the Middle District of Florida.
Stephen as a member of the National Association of Consumer Bankruptcy Attorneys and Central Florida Bankruptcy Lawyers Association primarily focuses on consumer based bankruptcies. Mr. Biggie has experience representing clients in Bankruptcy proceedings and will head the firm's Bankruptcy Department. Mr. Biggie takes a hands-on approach when he represents clients, and is determined to maximize your rights. Mr. Biggie also works on employment law matters including unemployment, discrimination, wrongful termination, and the Fair Labor Standards Act.
Arcadier & Associates, P.A. is a six attorney full service law firm in Melbourne, Florida servicing the legal needs of the community in the areas of Immigration, Family, Business and Employment, Bankruptcy, Foreclosure Defense, Commercial Litigation and Personal Injury and Wills and Trusts. Mr. Biggie and Mr. Boston are a valuable addition to our well rounded practice which include attorneys Maurice Arcadier, Fernando Palacios, Ashley Severance, and Dedra Sibley.
# # #