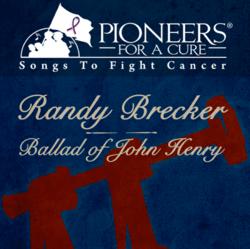 It was an honor to be asked to participate in Pioneers for a Cure. This is a very important issue, one to which I hope many people will contribute.
New York, NY (PRWEB) June 28, 2011
Pioneers For A Cure is pleased to announce the iTunes release of the American classic 'Ballad of John Henry' by Grammy Award-winning jazz trumpeter Randy Brecker. Brecker has selected the National Marrow Donor Program - Be The Match to benefit from proceeds from sales of the single, an advance release for the Pioneers For A Cure 'American Collection' in October 2011.
The song can be found on iTunes at http://itunes.apple.com/us/album/pioneers-for-a-cure-ballad/id445655596.
"It was an honor to be asked to participate in Pioneers for a Cure. Not only did I lose my brother Michael Brecker to MDS/Leukemia, we also lost both of our parents to similar blood cancers. This is a very important issue, one to which I hope many people will contribute. We're making inroads, but we have a long way to go to fully eradicate Cancer," said Brecker.
Randy Brecker has been shaping the sound of Jazz, R&B and Rock for more than four decades. His trumpet and flugelhorn performances have graced hundreds of albums by a wide range of artists from James Taylor, Bruce Springsteen and Parliament-Funkadelic to Frank Sinatra, Steely Dan, David Sanborn, Jaco Pastorius, Horace Silver and Frank Zappa. In 2007 he was awarded his fourth Grammy for "Randy Brecker Live with the WDR Big Band," (Telarc/BHM) the live recording (also available in DVD format) of his performance at the Leverkusen Jazz Fest in 2004.
As a leader in the field of unrelated marrow and umbilical cord blood transplantation, the National Marrow Donor Program (NMDP)® is dedicated to ensuring all patients who need a transplant receive access to this potentially life-saving treatment. Headquartered in Minneapolis, the nonprofit organization has been entrusted by the federal government through the C.W. Bill Young Transplantation Program to operate the national registry, publicly known as the Be The Match Registry®, which provides a single point of access for transplant centers and patients to marrow donors and cord blood units. The Be The Match Registry provides access to 9 million potential donors and more than 185,000 cord blood units. The organization also facilitates transplants worldwide; supports a global network of hospitals, blood centers, public cord blood banks, laboratories and recruitment centers; conducts research; and provides education and support to patients, donors and health care professionals. The NMDP has facilitated more than 43,000 transplants since operation began in 1987. For more information, visit BeTheMatch.org.
"The Ballad of John Henry" is about the American folk hero, notable for having raced against a steam powered hammer and won, only to die in victory with his hammer in his hand. He has been the subject of numerous songs, stories, plays, and novels.
Pioneers For A Cure is the largest showcase of cancer charities on the web. Called '[A] stellar model of artist-driven grassroots philanthropy' by National Geographic, the non-profit project records public domain songs, reinterpreted and made available for donations of as little as $1.99. This treasure trove of over 100 songs has been recorded by dozens of artists from around the world including Suzanne Vega, Ben E. King, Tom Chapin, Tom Verlaine, Matt White and David Broza. Proceeds from song downloads are donated to artist-selected cancer charities such as the American Cancer Society, St. Jude Children's Hospital, the Breast Cancer Research Foundation, and Susan G. Koman for the Cure.
Please contact Pioneers For A Cure for more information, reviews and other press requests.
# # #