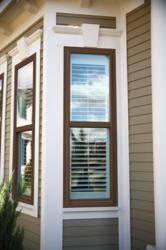 Columbus, Ohio (PRWEB) June 21, 2011
People looking to build a home or add to an existing home can now get more stylized options on their windows and doors in the newly-enhanced Simonton ProFinish® Brickmould 600 product line. Exterior frame and flat casing trim for windows and patio doors in the line are now available in Brick, Chocolate, Bronze, Cream, Driftwood, Pine and Tan.
"These exterior color options on new construction windows and patio doors highlight the attractive multi-tiered profile and add a touch of style to the outside of the home," says Gary Pember, vice president of marketing, Simonton Windows. "This is a unique way for homeowners to customize the design of their home's exterior and allow their windows and doors to coordinate with other elements of the home's design, including their siding, roof and entryways."
Simonton Windows® introduced the enhancements to the new construction Brickmould 600 line as a result of the rising popularity of its Decorum™ by Simonton product line for replacement products. "Personalized style options for vinyl windows and patio doors are quickly becoming a major trend in our industry for both new construction and replacement projects," says Pember. "Homeowners are eager to customize the entire aspect of their homes from interior furnishings to exterior design elements."
Additional enhancements to the Brickmould 600 series include premium hardware interior finishes such as Brushed Nickel, Oil-Rubbed Bronze and Polished Brass, to go along with the already available Light or Dark Oak woodgrain interior laminates. Simonton has also introduced a new sliding Patio Door, Colonial Casement and Colonial No-Hinge style windows to the product line. An attractive multi-tiered exterior profile on each product allows them to be installed on homes that feature brick, vinyl or both. Flat casing trim and J-channel filler are available to create a customized, finished appearance. And, flat casing trim is now available on Brickmould 600 Geometric windows and on select mulled window configurations.
Energy-efficient Brickmould 600 products come standard with ProSolar® soft coat Low E glass and an Argon gas fill. A variety of advanced energy-efficient glass options, including Simonton's ENERGY STAR® glass packages, are available for increased thermal performance in the home.
Several enhancements have also been made to the ProFinish Brickmould 300 product line including new choices of Simulated Divided Lites, energy-efficient Low E-366 glass, and flat casing trim for aesthetic appeal. The product line is available with White or Driftwood interior/exterior profiles and features durable construction of the frame and glass package.
"The new enhancements to the Brickmould product lines are the most sought-after options in the replacement window market," says Pember. "These new options make it easier than ever for homeowners to request new construction windows and doors that perfectly complement the overall design of their new homes."
Celebrating its 65th year of quality manufacturing operations in 2011, Simonton Windows produces ENERGY STAR® qualified replacement and new construction windows and doors, including a line of impact-resistant products. Simonton has ranked #1 in quality in the 2009, 2007, 2002 and 1998 Brand Use Studies sponsored by Builder magazine and has won three Best In Class Awards currently administered by LBM Journal Research Institute.
Founded in 1946, Simonton's hallmark has been to deliver the industry's shortest, most dependable lead-times. Part of the home and security business of Fortune Brands, Inc. (NYSE: FO), Simonton delivers award-recognized products nationwide to key markets throughout the 48 continental United States. Simonton is a founding sponsor of The Weather Museum and a supporter of Homes for Our Troops. For information, call (800) SIMONTON (1-800-746-6686) or visit http://www.simonton.com.
Release: http://news.simonton.com/newsrelease-cid-1-id-55.html
Photography: Media members may visit "media.simonton.com" (use password "media") for access to new Simonton ProFinish Brickmould 600 images under the "New Construction" section.
Simonton On-Line News Room: http://news.simonton.com/
ENERGY STAR is a government program that helps consumers protect the environment through superior energy efficiency and is a registered trademark of the U.S. Department of Energy and the U.S. Environmental Protection Agency.
###