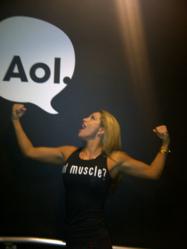 "I am thrilled to motivate millions worldwide with now being a part of the "AOL" team. Im honored that my "Believe" video on their viral 'You've Got' webisode series will transform so many lives."-Jennifer Nicole Lee
New York City, New York (PRWEB) June 20, 2011
It's no doubt that Jennifer Nicole Lee is one of the most highly sought after fitness experts, celebrities, bestselling authors, and leading wellness gurus. However, when her management team got the call from AOL to be featured on their viral online series entitled "You've Got", this took her name and career to the utmost level. JNL has now joined the ranks with other leading special guests including Donald Trump, Fergie, and our troops in Afghanistan, Ellen DeGeneres, Matt Damon, Kelly Ripa, and Will Ferrell.
The viewership of AOL's "You've Got" is startling, with reaching over 17 million people daily. AOL "You've Got..." is a daily program on AOL.com, with a record breaking readership of over 750,000 unique visitors each hour. JNL responded when asked what it feels like to now be highly sought celebrity by a huge online goliath such as AOL, she stated "I am honored to know continue to use the internet as a motivational tool to help inspire millions worldwide with my fitness and lifestyle expertise. When I started my weight loss success, and now having shed over 80 pounds, I too relied on the internet for instant information to keep me fueled and moving in the right direction. As a busy mom, the internet helped me not only to achieve and maintain my weight loss goals, but also to now touch millions of lives worldwide. I am thrilled to now be a part of the "AOL" team, having joined in on their viral webisode 'You've Got' campaign."
This online educational project reaches 17 million people each day, and showcases the highlighting top experts in their fields. From politicians, celebrities, and people of interest, AOL has already had many special guests including Katie Couric, Kevin Bacon, Lisa Ling, Brooke Shields... with many more people to come-including JNL. From the numbers, AOL has had tremendous success their first six months with over 2 million views of the series each week.
Each segment lasts approximately 1 and a half minutes and we can discuss shooting and creative when you are ready. JNL's motivational fitness and lifestyle expertise tips will get a great deal of exposure as it is front and center on their AOL.com homepage each morning and stays there all day.
For more info, please reach JNL Worldwide, Inc at JNLPublicity(at)gmail(dot)com
###