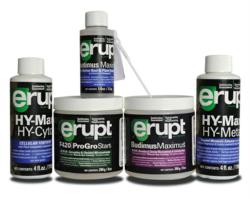 Toronto, ON (PRWEB) June 20, 2011
ERUPT™, an environmentally-friendly plant nutrient company that currently targets the medicinal marijuana industry, will now offer a line of eco-nutrients to the traditional home and garden market.
ERUPT announced Friday, their intention to enter the home and garden nutrient market with special blends of nutrients formulated for the at-home gardener, as a response to direct-competitor Scotts Miracle-Gro Company's announcement on June 14 of its intention to target the medicinal marijuana market.
In March 2011, ERUPT, formerly Mari-Gro, received a cease and desist request from Scotts Miracle-Gro Company's attorneys asking ERUPT to stop using the Mari-Gro brand stating it was far too similar to the Miracle-Gro brand, lending confusion to the marketplace and tarnishing the brand's reputation, since Mari-Gro specifically targeted the nearly $2 billion U.S. medicinal marijuana market.
"After receiving the attorney letter three months ago, I was surprised to hear the news that Miracle-Gro is now trying to enter the market they claimed would damage their reputation," said ERUPT President Tim Shoniker. "As we see it, it expands the market for all of us and opens the doors for access to a wider range in all of the plant nutrition markets."
ERUPT's unique patent-pending molecular nano-technology has been proven in many independent clinical trials to be far less harmful to the environment, with 25-90 percent less of the environmentally harmful nutrients leached into the soil and waterways than any other plant nutrient product tested.
About ERUPT™
ERUPT is a brand, manufactured in Canada by Eco-logical Innovations™ out of Pickering, Ontario. Eco-logical Innovations™ is a privately held, Canadian company that develops and manufactures environmentally friendly products. For more information, visit http://www.eruptnutrients.com or email info(at)eruptnutrients(dot)com.
###