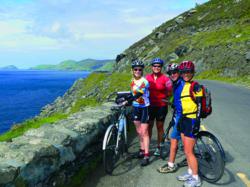 Legendary landscapes and biking roads with more sheep than cars are just two of the reasons why Ireland is perfect for a first-time European bicycling vacation.
Newburyport, MA (PRWEB) June 21, 2011
Legendary landscapes and biking roads with more sheep than cars are only two of the many reasons that Easy Rider Tours, a 25-year specialist in European cycling vacations, recommends Ireland for cyclists planning their first-ever overseas bicycling holiday. Fascinating history, a lively culture, friendly locals, and perfect pints of Guinness all add to Ireland's allure for the adventurous cyclist.
"Learning about local history and culture enhances any travel experience, and Ireland especially lends itself to that," says Easy Rider director Jim Goldberg. Ireland's contemporary history is easy to relate to, from the potato famine of 1845 to Queen Elizabeth's recent visit. Its ancient history is both mysterious and romantic, from mystical stone circles and tombs to legends of the pirate queen Grace O'Malley. "A typical day's bike ride in Ireland can encompass 3,000 years. There's no better way to exercise, learn, and have fun all at the same time," says Goldberg. The lack of a language barrier is another big advantage, he continues. "The Irish are great conversationalists and love to chat. The ability to converse easily with the locals makes a world of difference in getting the most out of a first-time European bike trip."
"Western Shores" is Easy Rider's easiest and most popular Ireland bike tour for first-time European pedalers. The seven-day cycling vacation spins through County Clare, Connemara, and Inishmore, the largest of the Aran Islands. Highlights include the seaside village of Doolin (whose pubs are a mecca for traditional Irish musicians and their fans), the Cliffs of Moher, the Burren National Park (including a naturalist-guided hike), and an evening of folk tales with an Irish storyteller. Accommodations are in country manor houses, with a fairy-tale finale at five-star Ashford Castle in County Cong. Each group is accompanied by two native Irish cycling guides who are also experts on local history and lore. In addition, a support vehicle is always available to provide snacks, offer assistance, and carry luggage (not to mention tired bikers). The per-person tour price of $3,195 includes all accommodations, most meals, two guides, support vehicle, and in-country transportation. Trip dates for 2011 are July 24-30 and September 3-9.
Easy Rider also offers two additional bike tours in Ireland geared toward stronger cyclists. "Coasting Kerry" is a nine-day ride through Ireland's most famous landscapes, including the Gap of Dunloe and Killarney National Park. "Celtic Challenge" is an eight-day Ireland bike tour specially designed for the expert cyclist, with rides averaging 60 miles per day through County Kerry and County Cork. Bike tour departures for 2011 run from June through September; groups are limited to 16 participants.
For a free catalog or more information on Easy Rider's cycling vacations in Ireland and bike tours in Europe, Canada, and New England, contact Easy Rider Tours at 800-488-8332 or visit http://www.easyridertours.com.
About Easy Rider Tours
Since 1986, Easy Rider Tours has specialized in biking vacations in Ireland, Portugal, Spain, the Canadian Maritimes, and New England. Each of Easy Rider Tours' itineraries provides the company's signature balance of cycling, culture, and cuisine, delivering the experience of a lifetime to active travelers worldwide.
Website: http://www.easyridertours.com.
###