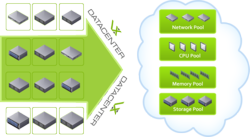 VxDatacenter virtualization, on average, improves IT infrastructure utilization from the average 15% to over 85%
Cloud Computing World Forum, London (PRWEB) June 21, 2011
Hexagrid, a leading developer of cloud enablement solutions, announces that its flagship product, VxDatacenter, won the 2011 Cloud Computing World Series Award for Best Virtualization.
According to Keynote World Media, the World Series organizers, the 2011 awards received a record number of entrants, including well-knowns like Microsoft, HP, VMWare and Rackspace. Amongst this "intense" competition, Hexagrid topped Abiquo and 2X Software for Best Virtualization Product and was also shortlisted in the Best Cloud Platform category.
"We are honored that the judging panel of industry experts selected VxDatacenter for this award," says Suresh Mandava, CEO and founder of Hexagrid Computing. "Before the term 'cloud computing', virtualization was growing in credibility and we were developing VxDatacenter to revolutionize the way businesses deliver and consume IT resources. Today VxDatacenter enables infrastructure as a service in more than 10 countries on 4 continents as an all-in-one virtualization tool and cloud management system. This award is a testament to our progress."
VxDatacenter optimizes KVM hypervisor technology as a turnkey Infrastructure as a Service (IaaS) platform that enables IT organizations to virtualize and manage commodity hardware as customized public, private, or hybrid clouds. VxDatacenter can be applied by either a service provider or enterprise to achieve multi-level control and management of virtual IT resources. VxDatacenter virtualization, on average, improves IT infrastructure utilization from the average 15% to over 85%, maximizing the value of capital IT investments.
According to Keynote World Media, over 250 entries were received which set an "extremely high" standard for the 2011 Cloud Computing World Series Awards. Having been judged by an independent panel of industry experts, the awards will be presented at the 3rd Annual Cloud Computing World Forum on June 21 in Olympia, London.
About Hexagrid Computing
As a leading developer of IT infrastructure software solutions, Hexagrid Computing Inc. built the first cloud enabling platform directly aligned with real-world IT delivery models—a revolutionary approach to Infrastructure as a Service (IaaS) that truly simplifies virtual IT management. Hexagrid provides all the software and support that IT organizations need to successfully build private/public clouds to fit their specific business and end-user requirements. It's Your Cloud, Own It! From basic everyday computing to intensive high-powered operations, Hexagrid IaaS cloud computing solutions enable companies to immediately generate profits by reducing costs and increasing efficiencies. For more information, visit http://www.hexagrid.com.
Contact Information
For more information on the Awards or about the Cloud Computing World Forum, please contact Charlie Bestall at +44 (0) 845 519 1230 or charlie(at)keynoteworld(dot)com
For more information about Hexagrid or VxDatacenter, please contact Tara Kinney at 1-636-590-2211, ext. 69 or tara.kinney(at)hexagrid(dot)com
###