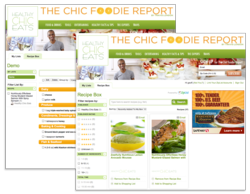 Our new recipe tools enable partners, whether recipe websites or food blogs, to offer a full-featured solution, while maintaining their own personal brands, and it's all free.
Sterling, VA (PRWEB) June 23, 2011
ZipList, Inc., the market-leader in online and mobile grocery list and recipe box management, with partners ranging from AOL's KitchenDaily to Martha Stewart Living Omnimedia, today announced three new partners that have integrated a fully-branded recipe box and grocery shopping list into their websites.
Among the new partners are three popular food blogs with three different cooking styles that range from quick and easy family favorites to healthy and sophisticated fare.

Faithful Provisions: Find lots of tasty recipes perfect for family dinners, as well as loads of money-saving tips from Kelly Hancock, author of the upcoming book, "Saving Savvy," due out in September. Check out her site at: http://www.faithfulprovisions.com.
Healthy Chic Eats: Created by celebrity chef and OK! Magazine contributor, Travis London, find healthy recipes, party planning tips and solid kitchen advice. His new site is: http://www.healthychiceats.com/website.
Hoosier Homemade: Find hundreds of recipes for easy-to-make dishes and budget meals created by Liz Latham. Also known as "The Cupcake Lady," look out for her popular Cupcake Tuesday posts. Find her food blog at http://www.hoosierhomemade.com.
Recipes found on all three new partner sites can be saved to a universal recipe box that syncs across the web and mobile with any other ZipList powered website, including ZipList.com and free ZipList Android and iPhone apps. Users can save recipes and manage their shopping lists and recipe boxes directly from within each partner's food blog.
"We're excited to offer these food bloggers fully-branded, seamless experiences to help their readers engage and act on the recipes they share online," said Geoff Allen, founder and CEO, ZipList, Inc. "Our new recipe tools enable partners, whether recipe websites or food blogs, to offer a full-featured solution, while maintaining their own personal brands, and it's all free."
To date, more than 300,000 people have used ZipList on ZipList.com, partner websites and mobile apps, adding millions of items to their weekly grocery lists.
Helping Partners Connect with Consumers
ZipList powers more recipe box and shopping list features on online and mobile lifestyle sites and apps than any other provider. Consumer packaged good manufacturers (CPGs), media publishers, grocery retailers and mobile developers can directly embed ZipList functionality into their web and mobile products, enabling consumers access to their single, personal grocery lists or recipe boxes while staying within a fully branded experience. Integrated mobile capabilities allow partners to offer a seamless online and offline experience, even while consumers are in the store. Interested partners, including recipe sites and food blogs, can contact ZipList at partners(at)ziplist(dot)com.
About ZipList, Inc.
ZipList is a market-leading online and mobile shopping list and recipe management service that enables shoppers to create and share grocery lists with family members. Users can arrange their lists by aisle or store, and can save recipes to a central recipe box. ZipList has partner tools, branded white label experiences and SDKs available to enable media and lifestyle properties to incorporate shopping list and recipe box features into their own sites and mobile apps. ZipList features can be found on AOL's KitchenDaily.com, MarthaStewart.com, Martha's Everyday Food iPhone app and various food blogs. ZipList is on the web at http://www.ZipList.com.
Check out the ZipList blog at http://blog.ziplist.com for the latest recipes, product updates, money-saving advice and grocery shopping tips. Follow ZipList on Twitter at http://www.twitter.com/ZipList or become a Facebook Fan at http://www.facebook.com/ZipList. ZipList is also available as a free mobile app for iPhone and Android users. For more on these mobile apps, visit http://www.ZipList.com/apps.
###