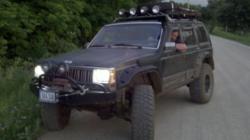 Columbiana, Ohio (PRWEB) June 22, 2011
Congratulations to Bud Hicks, winner of the May 2011 promo card contest on http://www.iShop4WD.com. iShop4WD, sponsored by 4Wheel Drive Hardware ("4WD"), is an online destination where Jeepers can share stories and connect with other members of the Jeep community. 4WD is the nation's largest mail order and Internet distributor of Jeep parts and accessories.
iShop4WD rewards Jeep owners for posting their upgrade stories by giving them the opportunity to win a promo card, or to have their Jeep featured on the cover of a 4WD catalog. Jeep owners are encouraged to post often, because each unique post is another chance to win. Monthly promo card winners are selected at random from all posts published during any given month.
Catalog cover winners are subjectively selected by 4WD experts. Jeep owners can improve their chances of winning the catalog cover contest by providing more detailed information about their upgrades. Catalog cover winners also receive a $500 4WD gift card and a commemorative framed picture of the cover.
Upon being notified that he had won the May promo card contest, Bud Hicks said, "Oh man, am I fired up about winning this contest!" He went on to say, "I have a lot of parts from 4WD on my Jeep. And it will continue to be my first choice for parts!"
Contestants must be at least 18 years old to win, and all winners are notified by email. Each entry must be unique and related to Jeeps, Jeep parts, or Jeep accessories. Complete contest rules are available on iShop4WD.com.
iShop4WD also provides access to free expert advice. Jeep owners can post questions about upgrades and their purchasing decisions on the site's Expert Advice page. All questions are answered by true 4WD experts.
4Wheel Drive Hardware offers competitive pricing on Jeep tires and wheels, lift kits and suspensions, Jeep tops, performance products, exterior body pieces, and other Jeep parts and equipment. For more information, visit 4WD.com or call (800) 555-3353.
About 4Wheel Drive Hardware: 4Wheel Drive Hardware has been a leading provider of Jeep tops, lift kits, tires, and other Jeep parts and accessories for over 30 years. The company is comprised of 4-wheel-drive enthusiasts who strive to give back to the Jeeper community they know and love. As part of this effort, 4WD.com was recently redesigned to make it easier than ever for Jeep owners to find the Jeep products they need at great prices.
###