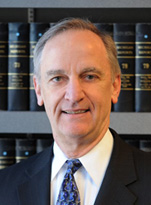 I appreciate the opportunity to serve my clients' interests. I always try to do my best. Being included in Super Lawyers makes me proud of the work I do and tells my clients that my efforts are recognized statewide. That feels good."
Farmington Hills, MI (PRWEB) June 28, 2011
Farmington Hills, MI attorney Jeff Stewart of Seikaly & Stewart, P.C. has been named by Michigan Super Lawyers magazine as one of the top attorneys in Michigan for 2011. Only five percent of the lawyers in the state are named by Super Lawyers.
Jeff Stewart has 35 years of experience and was admitted to practice in Michigan in 1975. Jeff has been a general trial practitioner throughout his career, handling cases in a broad variety of areas, including medical malpractice, legal malpractice, product liability, general personal injury, worker's compensation and a wide spectrum of business litigation.
The selections for this esteemed list are made by the research team at Super Lawyers, which is a service of the Thomson Reuters, Legal division based in Eagan, MN. Each year, the research team at Super Lawyers undertakes a rigorous multi-phase selection process that includes a statewide survey of lawyers, independent evaluation of candidates by the attorney-led research staff, a peer review of candidates by practice area, and a good-standing and disciplinary check.
Thomson Reuters, Legal publishes Super Lawyers magazines across the country. In addition to the magazines, Thomson Reuters, Legal publishes newspaper inserts and magazine special sections devoted to Super Lawyers. In 2010, Super Lawyers reached more than 15 million readers.
Super Lawyers was first published in 1991 by Law & Politics and was acquired by Thomson Reuters, Legal in February 2010. Thomson Reuters is the world's leading source of intelligent information for businesses and professionals. Super Lawyers can be found online at superlawyers.com, where lawyers can be searched by practice area and location.
Jeff is a lifelong Michigan resident who has lived in the Detroit area all of his life. He graduated from the University of Detroit Jesuit High School in 1967, completed his undergraduate studies at Michigan State University, and graduated cum laude from the Wayne State University Law School in 1974. Jeff served on the School Board for the West Bloomfield School District for 24 years, holding the offices of President, Vice-President, Treasurer and Secretary. Jeff also currently serves as a hearing panelist for the Michigan Attorney Discipline Board, and in that capacity has authored numerous opinions on individual discipline cases. Attorneys at law firm of Seikaly & Stewart, P.C. primarily in the following areas:

Medical malpractice
Legal malpractice
Product-related injuries
Governmental actions against business
Whether a case is filed in the State of Michigan or in almost any of the 48 contiguous states of the union, the odds are Bill Seikaly or Jeff Stewart have been there, in litigation, working with an expert witness or taking depositions.
Founded in 1995, the lawyers at Seikaly & Stewart, P.C. have more than 50 years of combined experience. For more information about the firm please go to http://www.seikalystewart.com or call 248-785-0102.
###