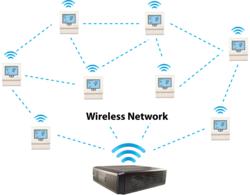 We are excited to offer WEB Comfort™ as an innovative way for contractors to provide intelligent energy management, effectively reducing their clients' energy costs while providing greater flexibility and control.
Indianapolis, IN (PRWEB) June 22, 2011
Jackson Systems, LLC, an Indiana-based, award-winning HVAC manufacturer and wholesaler, is proud to introduce the WEB Comfort™ Communicating Thermostat System.
The Jackson Systems WEB Comfort™ Communicating Thermostat System delivers exceptional value by enabling multiple thermostats to be wirelessly networked throughout the building or home. The WEB Comfort™ system provides an easy-to-use, web-based dashboard for programming, monitoring and control. Each WEB Comfort™ is enable for Internet connectivity and can be accessed from anywhere in the world via a standard web browser.
Jackson Systems WEB Comfort™ Communicating Thermostat System provides individual temperature control coupled with energy monitoring and cost savings by upgrading stand-alone thermostats to a powerful building management system. Providing intelligent energy management, the WEB Comfort™ system helps create more comfortable occupants and a greener planet, along with reduced energy costs.
The WEB Comfort system now also features newly-designed transceivers that are integrated into the WEB-T32P communicating thermostats.
More information about the WEB Comfort™ Communicating Thermostat System can be found online at http://www.jacksonsystems.com or by calling 888-652-9663.
About Jackson Systems:
Through our mission to provide the best quality and most contractor-friendly control products and service in the industry, we work each day to deliver excellence. Founded in 1997, Jackson Systems today is celebrated as one of the fastest growing companies in Indiana. Jackson Systems serves customers worldwide as a leading direct-to-contractor zone control manufacturer and distributor.
Combining the skills of our talented technical engineers and the customer service support of our sales team, Jackson Systems sets the standard from creating contractor-friendly products and available support teams to help our customers achieve success. Jackson Systems is the direct choice for simple controls. For formal quotes, design assistance or additional information, visit http://www.jacksonsystems.com or call 888-652-9663.
###