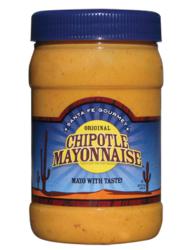 (PRWEB) June 22, 2011
When it comes to condiments, mayonnaise often gets the short end of the stick. Unlike mustard, whose seemingly endless varieties take up a majority of shelf space, mayonnaise is largely seen as "plain boring," "old-school" and un-evolved. But a quick peek into the kitchens of top restaurants and culinary schools would prove otherwise: emulsions like mayonnaise are among the most important skills chefs can learn, and mayos and aiolis are the hallmark touch of many a winning restaurant dish. That's why Santa Fe Gourmet® (est. 2008) is bringing a revolution in mayo to the store shelves—and home kitchens—with a line of Chipotle Mayonnaise that's bound to add pop and pizzazz to any cook's repertoire. Needless to say, this may be the biggest thing to happen to mayo since Hellman's began production over 100 years ago.
Santa Fe Gourmet's Original Chipotle Mayonnaise is a sophisticated spread developed by a classically trained, NYC-based chef, inspired by the very flavors made popular in restaurant kitchens across the country. Its smoky, creamy, bold flavors are a direct result of the high-quality ingredients in the jar: roasted chipotle puree, shallots, red bell peppers, garlic and paprika. The freshness comes across in deep flavor, providing an alternative spread that has not been available on supermarket shelves until this point. And because Santa Fe Gourmet is the first company to devote itself exclusively to chipotle mayo, the quality is unrivaled as a whole.
Santa Fe Gourmet's Original Chipotle Mayonnaise is available in both regular and light versions, the latter of which made its debut at the NASFT Fancy Food Show last June. A benefit of the product, says founder Pat Canavan, is that less product is needed to yield big flavor in any dish, reducing the overall fat and calories consumed in a serving. Both products are manufactured by Ken's Foods, Inc., a family-owned, leading manufacturer of salad dressings and sauces.
Unsure of how to incorporate chipotle into the everyday? Restaurants have been setting the trend, showing that the chipotle pepper's smoky complexity lends itself to a huge variety of foods without trespassing into "too-spicy" territory. In fact, chef-designed recipes for Santa Fe Gourmet range from savory appetizers through dessert—crab cakes and seafood, salads and sandwiches, deviled eggs and burgers, even brownies can get a kick from this addictive spread. Early adopters even claim to use it as dip straight from the jar, citing its full-body, real-deal gourmet appeal.
Thus far, Original Chipotle Mayonnaise is sold at gourmet stores including Fairway, Zabar's, Gourmet Garage, Stew Leonard's, and certain Shop Rites throughout the NY/NJ/CT tri-state area. Original Chipotle Mayonnaise is Kosher Certified and is available for private label use in restaurants and other such establishments. For more information please visit their website at http://www.chipotlemayo.com and contact Michael Gartenlaub of Benvenuti Public Relations at mgartenlaub(at)benvenutipr(dot)com, or 212-696-9883.
###