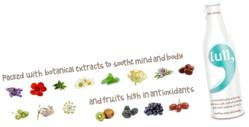 Designed to appeal to all the senses
Putney, London (PRWEB UK) 21 June 2011
Start-up company, The Botanical Drinks Co. has just launched LULL, the ultimate 'chill-out' drink, a healthy, 100% natural, fruit and botanical drink designed to 'soothe mind and body'. It is a refreshing blend of berries and kiwi with the deliciously distinctive taste of lavender. It contains no added sugar, so is low in calories, just 43 per 250ml bottle.
Stress, a hectic lifestyle, a poor diet and environmental pollutants often cause imbalance in the body. LULL provides carefully selected valuable and essential nutrients to help relax the whole body by aiding regeneration and restoring inner-wellness and balance. LULL provides life-enhancing b, c and e vitamins for well-being and balance, magnesium for countering stress and antioxidant protection from the nutrient-rich juices of kiwi, blackberry, blackcurrant and red grape.
Every 250ml bottle of LULL contains 2000mg of carefully blended botanical extracts selected from around the world for their beneficial properties. They include relaxing lavender, rejuvenating hibiscus, uplifting green tea, calming chamomile, soothing lemon balm, comforting lime blossom, happiness-inducing passion flower, anxiety-fighting jujube, stress-relieving hops, balancing valerian and cleansing fennel.
100% natural, LULL contains no added sugar, artificial flavours, colours or preservatives. LULL has a clean and balanced taste, with a subtle natural sweetness. LULL is low in calories (just 43 per 250ml bottle), slow burn and diabetic friendly. No spike = no crash!
LULL is designed to appeal to all the senses…it smells and tastes of lavender, is an attractive berry colour, gently fizzes and is packaged in a bottle with a smooth sensuous feel.
The highly innovative aluminium bottle not only protects the light-sensitive botanicals, so ensuring they remain in perfect condition, but it's also environmentally friendly – light, unbreakable and fully recyclable.
LULL is a premium priced drink (recommended price of £1.90 per 250ml bottle). LULL is currently available direct (http://www.drinklull.com) and from a few specialist retailers in the UK and from La Grande Épicerie in Paris.
Notes to Editors:
About LULL:
A 250ml bottle contains 15% of the recommended daily allowance of: magnesium, 56.25mg, vitamins (B1 0.11mg, B2 0.21mg, B3 2.4mg, B5 0.9mg, B6 0.21mg, B12 0.375µg, C 12mg and E 1.8mg)
Every 250ml bottle contains 2000mg of botanical extracts, sourced from around the world: lavender (1300mg); hibiscus (150mg); green tea (150mg); chamomile (50mg); lemon balm (50mg); lime blossom (50mg); passionflower (50mg); jujube (50mg); hops (50mg); valerian (50mg); fennel (50mg)
Nutritional info (per 100ml): energy 74kj/17kcals, protein 0.1g, carbohydrate 4.1g (of which sugars 4.1g), fat 0g, fibre 0.1g and a trace of sodium.
Ingredients: sparkling water, 30% juice from concentrate: kiwi, blackberry, blackcurrant and red grape, botanical extracts (0.8%), concentrate from carrot, magnesium, vitamins (b1, b2, b3, b5, b6, b12, c & e).
About The Botanical Drinks Co.:
Founded in 2010 by Claire Lettice, The Botanical Drinks Co.'s raison d'etre is to create drinks that play to the senses… sophisticated drinks made with nature's finest botanicals. LULL began on Claire's kitchen table when she experimented with a juicer, a lot of fruit and a range of botanical extracts.
About Claire Lettice:
Claire lives with her husband and two teenage children in Putney, South West London. She is passionate about good food and sustainability. Before launching The Botanical Drinks Co., Claire spent 20 years working in marketing communication agencies in London.
###