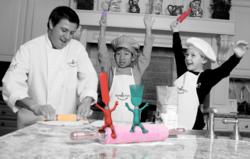 Iselin, N.J. (PRWEB) June 21, 2011
Increase the cool factor at home this summer by heating things up in the kitchen with the Headchefs® line of character–based cooking utensils, each personality with its own story and talent. Kids will enjoy both spending time with their parents and learning about meal preparation. Plus, they might just have a culinary adventure or two with these fun and fully functional tools.
"The Headchefs cooking utensils line blends quality with fun and function," said John Mazzacco, CEO of Head Chefs, LLC. "We hope to inspire the imagination of bakers and chefs of all ages and ignite the playful spirit of all who use them, while productively interacting over meal preparation."
A child's lifelong love of cooking can start this summer by mixing it up with the Headchefs gang which includes 23 exciting characters from "Spike" (Pastry Brush), to "Peggy" (Stirring Spoon), to "Ollie" (Whisk), to "Floura" (Measuring Cup), among many others. Designed with innovation and top-quality materials, the Headchefs kids cooking utensils feature bendable arms and legs with soft, food-grade silicone bodies, and suction-cup feet allowing them to stand on their own on the countertop. They're also dishwasher safe, making clean-up a summer breeze.
In addition, parents may soon discover a new "Head Chef" in the house with the release of the new line of Headchefs' Cooking Adventures cookbooks — A Peace of Pizza, Mac & Cheese - Fit for a King, and Santa's Favorite Cookie — storybooks complete with easy-to-follow recipes. Each storybook brings the fun-loving Headchefs cast of characters to life as they find themselves in the middle of one culinary adventure after another, solving food mysteries and creating enjoyable recipes along the way.
Encouraging children to participate in meal preparation with their parents offers a number of benefits, among them:

Children are more apt to try healthy foods and develop healthier eating habits for the long term.
Cooking together fosters parent-child relationships, providing an opportunity to talk and spend quality time without distractions.
Kids are more likely to enjoy a meal they helped to create.
In fact, a recent study on parenting techniques showed that Headchefs child-friendly, kitchen utensils significantly enhanced the impact of meal-time parenting, an approach that brings families together to prepare meals in order to foster collaboration, build connectivity, accrue family harmony and improve child behavior. Specifically, the research indicated that children using these specialized kitchen utensils became more motivated and active in preparing and consuming meals with their parents.
The entire Headchefs line of products, including the Sil-pinTM no-stick rolling pins and non-slip, easy pour Base-Bowls, are available online at http://www.headchefs.com. Products can be purchased individually or in a set.
About Head Chefs, LLC™
Head Chefs, LLC TM (formerly Fiesta Products, LLC TM), makers of the popular Sil-pinTM line of silicone rolling pins, offers a diverse selection of kitchen products that are on the forefront of modern innovation in the industry. The company combines colorful, contemporary styles with high-performance design, making its products a top choice for young chefs and chefs young at heart in professional and home kitchens around the world. For more information on Headchefs, please visit http://www.headchefs.com and on Facebook.
###