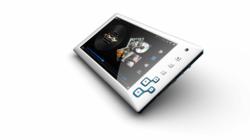 Consumers are looking for more affordable Tablet PC price range.
(PRWEB) June 21, 2011
Idolian.com is please to announce new Android tablet PC TouchTab and TurboTab! Idolian is 214 licensed telecommunication carrier, with it's offices in Newport Beach, CA, Arkansas and South Korea expanding into tablet pc market. Idolian's vision is to produce reliable tablet pc that's priced between $199-$299 that any individual or small businesses can afford.
TouchTab is a 7" Android Tablet featuring a capacitive touch screen, Samsung Chipset 1Ghz CPU, 512MB, HDMI output, G-Sensor, 1.3 MP camera and retails for just $249.
TurboTab has a sleek new style and feel, it is priced starting at just $299.99. It runs on Samsung Chipset 1 GHz CPU, 512MB, 7" capacitive touch screen, 2.0MP Camera, bluetooth, GPS, 360 G-Sensor, HDMI output.
Both of these new models are offering WI-FI connectivity and a long lasting battery life (4-6 hours). They are both running on Android 2.2 OS (Froyo) with access to Google features such as Android Market,Gmail, facebook, twitter, and also YouTube & Adobe Flash.
"Many IPad or GalaxyTab owners wish all of their family members could each have and enjoy their own tablet PC, but it is either too expensive or too delicate to risk putting in the hands of children. TouchTab and Turbotab will be great starting price for such needs" says Mr. Lopez, Director of Operations.
Both models are available to purchase through company website http://www.idolian.com. Thanks to its established retail distribution, Idolian tablet PC's will be widely available at retail & cellular locations throughout the US and South Korea in the near future.
About Idolian.com: Idolian.com is division of Idolian Mobile, Inc, an International telecommunication company that terminates calls throughout the world. Idolian Mobile Inc. is headquartered in Newport Beach, California and has two branch offices in Arkansas and Seoul Korea.
Like it's slogan "Tablets for Everyone", Idolian.com mission is to become major brand for Android Tablet market that everyone can afford.
###