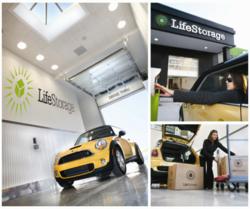 "We are trying to help service the community of which we are in since the community is what helps us grow as a business."
Chicago, IL (PRWEB) June 22, 2011
LifeStorage, a premiere Chicago self storage provider of home and business storage and office solutions, is proud to announce a multitiered fundraising effort for The Pantry of Rich Township. The Pantry provides over 750 low-income families with food and basic household items.
Allison Thompson and Michael Gray, managers of the Matteson LifeStorage facility, are in charge of an in-house food and money collection effort, as well as a charity car wash to help raise money and goods for The Pantry. They also entered the 26th Annual Hunger Walk, which benefits a network of over 650 pantries, soup kitchens, and shelters in Cook County.
"We decided to reach out to our community and what better way to help than by fundraising for The Pantry, which provides such an important service," Thompson said.
The Pantry is a non-for-profit, Salvation Army Unit extension, providing qualifying families non-perishable food items, personal care products, disposable diapers, and baby formula. It also offers limited utilities assistance. Once every year, families that receive shut-off notices from the electric or water companies can receive $50 towards outstanding bills.
"Personally we both feel it is a great organization and with the economy and gas prices as they are we all could use a little help," Gray said. "We are trying to help service the community of which we are in since the community is what helps us grow as a business."
Vicki Sline, director of The Pantry, offers some insight into just how important support from companies like LifeStorage is. "We are not funded by the township for food. We have to depend on fundraisers and private donations of money or foods to help support us in buying the needed items for our clients."
Sline continues, "The foods donated goes right back out to the community and The Hunger Walk money goes to credit our account at the Chicago Food Depository from which we purchase food for our shelves."
Several Life Storage locations (LS Matteson, LS Mokena, LS Bridgview, LS South Chicago Heights participate in an ongoing collection of monetary and food donations, where they recently received a donation of $300 in bread products. All donations go directly to The Pantry to help them replenish stock.
Quickly approaching is the 26th Annual Hunger Walk in Chicago, on June 25th. Participants in the event walk a 5K course, helping raise funds and awareness for the Chicago Food Depository and its network of agencies, including The Pantry. It's the largest one-day anti-hunger event in Chicago.
On July 9th, there is a charity car wash at the Matteson LifeStorage, located at 21700 S Cicero Avenue. Music and refreshments will be provided by LifeStorage, and each donation provides donors with a car wash!
For more information on The Pantry, please visit: http://www.richtownship.org/pantry.asp
Or to find a LifeStorage location near you, please visit: http://www.lifestorage.net/self_storage/locations
About LifeStorage:
With 17 locations throughout Chicagoland Life Storage provides the best in household and commercial self storage services. Whether you are downsizing, relocating, or growing your business, Life Storage Centers offer the 21st century way to manage your belongings, records, and merchandise. Our drive-in and drive-thru convenience makes your move easy. Life Storage also offers records storage, document destruction and truck rentals. Tenants have access to their offices or storage facility with a keypad code for getting in after hours.
# # #