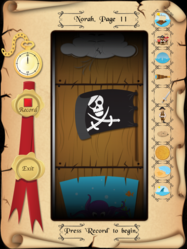 My son and daughter love it. - What better way to spend time with your kids then telling stories. Now they tell me stories.
Halifax, N.S., Canada (PRWEB) June 23, 2011
Oh no! The princess has been captured by the evil wicked queen. But who is going to come to her rescue or is she going to plan her own escape? With the new Story Wheel app, the possibilities are only limited by the user's imagination.
EverAge Consulting releases Story Wheel app for the iPhone and iPad. Story Wheel is a cooperative story creation application designed to work in conjunction with one of the most powerful computers in the world - the human mind. It will help users create stories, improve their child's cognitive abilities and most importantly, have fun.
Recent studies show children with underdeveloped imaginations are more prone to many developmental problems. An unfostered imagination in a child belongs to an unnourished mind. Though parents give their children food, water and love, how often do parents fuel and ignite their kids' imaginations?
"Storytelling stimulates the imagination. Recent studies have shown that children who lack imagination are not only prone to failure in school but are far more susceptible to violence." - Fredericks, Linda and Allison Cox. Storytelling In The Classroom.
Story Wheel wants to keep those imaginations vibrant. It wants to get users and their children inventing stories together. Get them thinking, creating and speaking. In the future it will be these children who are confident in speech, complex thought and social competence that will shine like the heroes they are.
To start a story, users spin the Story Wheel and land on an image - now it's their turn to make up part of a story with that image. They'll have 30 seconds to record their voice as they add to the story. Each page of the story lists the speaker and shows an animated image that was spun. See the YouTube video for Story Wheel by clicking here. This positive reinforcement will captivate children and encourage them to tell even more stories. Children will pick this as their top game for the iPhone or iPad.
Device Requirements:

iPhone, iPod touch, and iPad
Requires iPhone OS 3.2 or later
29.2 MB
Pricing and Availability:
Story Wheel 1.0 is free and available worldwide exclusively through the App Store in the Education category.
About EverAge Apps
EverAge Apps, a subsidiary of EverAge Consulting, is also located in Halifax, Nova Scotia, Canada. EverAge is a consulting firm that specializes in Content Management implementations and application development. For more information visit http://www.everage.ca/
Media Contact:
Andrew Wilcox
President
902-482-0510
Canada
Copyright (C) 2011 EverAge Apps. All Rights Reserved. Apple, the Apple logo, iPhone, iPod and iPad are registered trademarks of Apple Inc. in the U.S. and/or other countries.
###