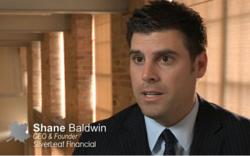 I've always had an entrepreneurial spirit, even at a very young age.
Salt Lake City, UT (PRWEB) June 22, 2011
Dwight Shane Baldwin has recently added "SilverLeaf Asset Management" to the list of companies he has founded within the SilverLeaf family of companies. The asset management company will manage the daily activities associated with the commercial assets that SilverLeaf Financial acquires. Namely retail complexes, industrial buildings and office buildings located in various parts of the nation.
Shane Baldwin has applied years of entrepreneurial accomplishment to his current position as Founder & CEO of SilverLeaf Financial. Baldwin attended Brigham Young University-Hawaii. There Baldwin studied business administration and marketing, where he established and managed his first entrepreneurial effort. He says "I've always had an entrepreneurial spirit, even at a very young age." Baldwin has been able to create multiple business ventures over the last 10 years. Ranging from relatively small, to very large businesses in a variety of different industries.
Upon completing his education, Shane Baldwin relocated to Salt Lake City, Utah, utilizing his business education and experience to found private equity firm SilverLeaf Financial. SilverLeaf Financial provides monetization services to financial institutions such as national banks, and the Federal Deposit Insurance Corporation (FDIC) throughout the United States.
Under Shane Baldwin's leadership, SilverLeaf Financial acquires both performing and non-performing first position CRE loans and converts them into legal tender. Since its establishment in mid 2008, SilverLeaf Financial has acquired over $500 million in face value notes from banks and other financial institutions across the nation.
Shane Baldwin and his team carefully analyze each loan to determine value prior to potential acquisition. Because of the extensive evaluation process the risk level of these types of investments is considerably lowered. When asked about current distressed loan pricing in the market, Baldwin said, "I think we will see pricing come down, because there is so much on the market. I believe we will be able to buy loans at better prices than we've seen historically. We are also seeing more non-recourse commercial loans being sold this quarter opposed to recourse loans, as well as more and more loans secured by retail assets."
Prior to founding SilverLeaf Financial, Shane Baldwin served as a Financial Advisor with Merrill Lynch for more than three years, totaling $600 million in business development and client acquisition. In addition to his professional responsibilities, Baldwin serves on the board for numerous charitable organizations, including the National Shaken Baby Coalition and the Northern Utah Chapter of the American Red Cross.
Shane Baldwin's list of companies that he has founded include SilverLeaf Development, SilverLeaf Realty, SilverLeaf Financial and SilverLeaf Asset Management. Baldwin has spoke on numerous panels and forums discussing topics associated with distressed debt in today's marketplace. In October 2009, Shane Baldwin garnered an invitation to speak at the annual National Association of Industrial and Office Properties (NAIOP) Development Conference, where he presented a lecture on "Buying Distressed Commercial Paper."
Baldwin says he will continue his entrepreneurial activities involved with thus far, and most likely expand into other industries in the years to come.
###