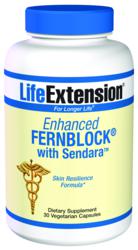 Just 20 minutes of incidental sun exposure a day over the course of a year adds up to two straight weeks of unprotected exposure.
Ft. Lauderdale, FL (PRWEB) June 22, 2011
You've heard the warnings countless times: if you're heading to the beach, apply sunscreen. But what about the sun exposure received on your daily commute, running outside for a coffee break or going for a jog on a cloudy day? That's incidental sun exposure – the kind received unintentionally during everyday activities. For the average person, incidental time spent in the sun can account for 80 percent of his or her lifetime sun exposure. This ultraviolet light exposure can lead to skin damage, including premature skin aging and wrinkling. Life Extension, a pioneer in the latest anti-aging research and integrative health therapies, while offering superior quality, research-backed dietary supplements, offers a unique oral supplement, Fernblock® with Sendara™, to help protect against this little recognized health risk.
Incidental Sun Exposure's Accumulative, Harmful Effects:
Incidental sun exposure is important because of its accumulative and harmful effects on the skin. Consider that:

Just 20 minutes of incidental sun exposure a day over the course of a year adds up to two straight weeks of unprotected exposure.
Driving may be one of the most common situations where people are at an increased risk. A July 2011 study in the Journal of the American Academy of Dermatology found that incidences of sun damage are significantly more likely to arise on the left than the right, and this effect was most prominent on the arm. Driver-side automobile ultraviolet exposure (approximately 5-fold stronger on the left than right arm) is a likely contributing factor.
People forget that 80 percent of the sun's rays penetrate clouds so skin needs to be protected even on overcast days.
Unique Sun Protection:
The good news is that sun protection is easily available in two ways: traditional topical sunscreen and Life Extension's Fernblock with Sendara, the first oral supplement offered for sun protection. For short periods of incidental sun exposure, just one Fernblock capsule should provide adequate protection. For intense sun exposure, two to three capsules of Fernblock, plus an effective topical sunscreen, provide convenient and complete day-long protection. Fernblock supplements the effects of topical sunscreens by inhibiting sun damage over the entire skin surface and has an obvious advantage since it cannot be removed by perspiration or bathing.
During a decade of clinical trials, Fernblock, a natural extract derived from the fern plant Polypodium leucotomos, has shown to safely inhibit the absorption of harmful ultraviolet (UV) rays and suppresses cell damaging free radicals. Fernblock also helps inhibit pro-inflammatory cells that cause redness and itching due to sun exposure. Studies have also shown that this fern extract has a high affinity for skin tissue and helps protect against ultraviolet damage shown to cause premature skin aging and wrinkling by blocking protein-destroying skin enzymes and helping to preserve the skin's antioxidant status.
Enhanced Fernblock® with Sendara™ ($39) is available at http://www.LifeExtension.com and at select vitamin retailers nationwide.
These statements have not been evaluated by the Food and Drug administration. These products are not intended to diagnose, treat, cure, or prevent any disease.
About Life Extension®
For more than 30 years, Life Extension® has been a pioneer in funding and reporting the latest anti-aging research and integrative health therapies while offering superior-quality dietary supplements to consumers. A trailblazer in the $26 billion U.S. dietary supplements industry, Life Extension's core mission is to extend the healthy human lifespan using an integrative approach and funding cutting edge scientific research. For more information, visit http://www.lef.org, http://www.Twitter.com/LifeExtension, http://www.Facebook.com/LifeExtension and http://www.YouTube.com/LifeExtension.
###