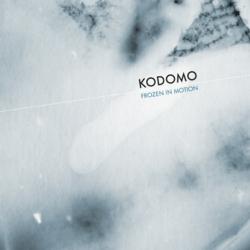 Los Angeles, CA (PRWEB) June 21, 2011
The highly anticipated second release from Kodomo, "Frozen In Motion," will be released on June 21st both in a very limited run of 500 specially packaged CDs as well as on iTunes and our extended digital distribution network.
The limited 500-piece specialty packaging of the "Frozen In Motion" CD will include a 12-page foldout panel featuring the artwork of noted New York artist Brian Graf. Graf is best known for his photography and his work has been shown throughout the United States as well as internationally.
"Frozen In Motion started as what could be described as an urban, sonic journal; a recording of the diverse sounds connecting daily experiences, says Child. "The tone of a train passing over a bridge – the ambience in a subway platform and people on their daily commutes – each track on the album is recasting of these sounds; a reassembling of the sonic environment of a city in constant motion."
Based in New York, Child founded Kodomo in 2000 as a moniker for remixes. "Kodomo" means "child" in Japanese – a tribute to Child's last name as well as a reference to his childhood spent in Japan. 2008 marked the release of Kodomo's debut full-length album "Still Life - a highly conceptual work in which all the tracks on the album were composed to a series of photographs.
Child has performed in New York, Montreal, Barcelona, Paris, and Tokyo. His music is regularly featured on NPR's Morning Edition, This American Life and All Things Considered. As Kodomo, Child has also done frequent remixes for artists including Freezepop, Omar Faruk Tekbilek, The Planets Won't Let You Sleep Tonight and Symbion Project. His music has been released in the popular hit video games Rock Band, Phase, Amplitude and Frequency, produced by Harmonix.
Frozen In Motion is available June 21st, 2011 on iTunes, Amazon and directly from Kodomo at http://www.kodomomusic.com.
For additional information please visit: http://www.kodomomusic.com
To preview the album, please click here: http://bit.ly/Kodomo
###