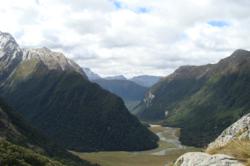 This is a great deal for a family vacation. We know your family will cherish the experience.
San Diego, CA (PRWEB) June 21, 2011
New Zealand is a special travel experience. Not only does it offer outdoor pursuits and amazing scenery, but the warm hospitality of the Kiwi people makes it a worldwide favorite.
Discounted child fares normally apply to children ages 2 to 11. However Air New Zealand has increased eligibility for child discounts up to 17-years-old, which means a great opportunity for families seeking a unique travel experience for teenagers. In addition, few airlines make long-haul travel as fun for families as Air New Zealand. Children can enjoy nonstop in-flight entertainment, kid-friendly meal options, and Kids' Packs.
The first two children traveling in a party with one or more adults will receive economy fares discounted to 75 percent off the adult fare. If more than two children are traveling in the group, additional children will receive the regular discount of 25 percent off the adult fare.*
Outdoor Travel Adventures, a specialty wholesaler for the South Pacific, can customize the ideal self-drive land package to accompany these promotional fares. Poplular activities include, hiking, kayaking, black water rafting, glacier hiking and cruising the pristine Milford Sound.
The promotion is available for economy class tickets issued by June 30, 2011 and for travel on Air New Zealand from the United States and Canada to New Zealand and Australia from August 1 to October 31, 2011. * Discount is from the base adult airfare only, and does not apply to the fuel surcharge of $500 and government fees and taxes of approximately $90 USD for the USA and $140 for Canada.
For reservations and information, contact Outdoor Travel Adventures at 800-554-9059 or 619-523-2137; email us at info(at)otadventures(dot)com.
Outdoor Travel Adventures is a leading provider of adventure, nature and luxury travel. They seek to match their customer's travel goals to an experience that is right for them. The company has been in business since 1996 and prides itself on delivering "Life Enhancing Travel" experiences.
###