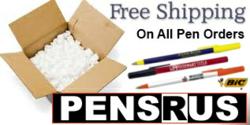 New York, NY (PRWEB) June 21, 2011
PENSRUS announced today that their expanded line of Sharpie promotional pens are being offered at competitively low prices. PENSRUS, a mainstay in the personalized products and http://store.pensrus.com/Merchant2/merchant.mvc?Screen=CTGY&Category_Code=BIC&?s=prweb [giveaways __title__ giveaways] industry, was founded online in 2001 with over 50 years of experience helping businesses increase sales through branding and building customer loyalty.
The famous Sharpie pen is a trademark of the Sanford Ink Company and made its debut on the http://store.pensrus.com/Merchant2/merchant.mvc?Screen=PROD&Product_Code=PRU-PLWB&Category_Code=PAPERMATE&Product_Count=16&?s=prweb [writing instruments __title__ writing instruments] scene in May of 1964. With it's attention grabbing, water-proof, and permanent marking features, this logo pen became an overnight sensation.
"Sharpie personalized markers have consistently been a customer favorite at PENSRUS because of their uniqueness and usefulness," comments PENSRUS CEO Henry Morgan. "These everlasting markers are so versatile and can write on so many different surfaces, there is practically no mission you cannot accomplish with this group of pens."
There are various types of Sharpie permanent markers for different projects. Ideal for a wide array of activities including labeling cds', writing on lunch bags, using for school projects, as well as in the workplace, each imprinted marker is waterproof and fade-proof, ensuring a quality product to be utilized my virtually anyone.
At PENSRUS, one will find the perfect Sharpie for their every day marketing needs. The http://store.pensrus.com/Merchant2/merchant.mvc?Screen=PROD&Product_Code=SHARPIES_AUTOGRAPH&Category_Code=SHARPIES&Product_Count=4&?s=prweb [Sharpie Autograph Pen __title__ Sharpie Autograph Pen] is the world's #1 selling marker, and equipped with non-toxic standard Sharpie ink, the Sharpie Autograph Pen is especially suitable for signing clothing and other fabric items. Marketers can imprint their promotional message on one and customers will instantly recognize their brand while utilizing the custom marker to it's fullest effect. Customizable in many different colors and priced as low as $0.72 a unit, every business can afford to implement this unique pen into their advertising strategy.
Another customer favorite are the http://store.pensrus.com/Merchant2/merchant.mvc?Screen=PROD&Product_Code=PRU-MINM&Category_Code=SHARPIES&Product_Count=2&?s=prweb [Sharpie Mini Permanent Markers __title__ Sharpie Mini Permanent Markers]. Perfect for key chains, lanyards, golf bags, and more, customers can take these mini markers anywhere they go. Convenient, portable, and imprintable in a wide variety of colors, these promotional markers make for fun giveaways that are sure to be seen by potential clients wherever they go. Used around the workplace, classroom, and out and about, this advertising strategy has a high visibility that comes at a low cost.
For more information and a full listing of all Sharpie promotional products, please visit PENSRUS.com.
About PENSRUS
PENSRUS is a mainstay in the promotional products industry with over 50 years of experience in the writing instruments business. PENSRUS is committed to helping hundreds of companies nationwide to increase branding and customer awareness through their high quality products and excellent customer service, which can be viewed at resellerratings.com.
Contact information:
PENSRUS
http://www.pensrus.com
800-736-7787
info(at)pensrus(dot)com
# # #