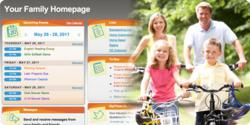 East Texas, PA (PRWEB) June 22, 2011
Day-Timer is helping busy Moms say goodbye to their daily struggle with a chaotic family schedule.
The trusted leader in time management solutions now offers HomeLife, a free online family calendar, dedicated to hard-working Moms and their active families.
"It's certainly no secret today's Mom handles an overwhelming amount of family duties on a daily basis. Trust me, I've been that Mom," said Martha Curren, Day-Timer General Manager. "We offer her a solution that brings all of the schedules, tasks, and lists together in one easy-to-use website the whole family can access -- from anywhere.
Curren noted Day-Timer recently completed a nationwide survey of working Moms and found one of the biggest causes of stress is "trying to do it all." The morning rush was said to be the most stressful time of day – a time when family organization is most needed.
"We know families rely on Mom to keep on top of everyone's schedules –oftentimes by herself. We created HomeLife to support her every step of the way from scheduling, to task management, to list making, to driving schedules, to storing family documents safely. It's the most dependable resource Mom could ever ask for."
Here are a few ways Mom can use HomeLife to better manage her home and family:

Track color-coded schedules for each family member - you can avoid missed appointments, practices, and events
Download every family member's calendar from Google or Outlook and see them all together; or filter for viewing one at a time.
Assign and email "to-dos" to family members to make sure things get done
Create online grocery lists to update, view and share
Easily Set-up automatic text message reminders for your spouse or kids
Import Google Calendar™ or sync with Outlook® to incorporate work calendar and tasks into HomeLife
HomeLife offers Mom a host of features she can use to keep her family on the same page and closer together.
And, because it's accessible from any computer or web-accessible smartphone, the calendar can be used by every family member - in the same house, down the street, or across the country.
It's free, there's no credit card required. Anyone can sign up and be on their way in just a few easy minutes. A series of video tutorials make HomeLife a truly user-friendly experience.
HomeLife is the easiest to use online calendar for the active family, thanks to its Mom-friendly set-up and unique features like color-coding, Outlook sync, and automatic text message reminders. View the brief video tour and sign-up today by visiting: http://homelife.daytimer.com.
About Day-Timer:
Day-Timer is the most recognized name in personal productivity and organization. Incorporating proven time management principles, Day-Timer helps individuals achieve their personal and professional goals, prioritize the activities that matter most, and balance their work-life commitments.
Website: Daytimer.com (http://www.daytimer.com/)
Contact Information
Jeff Doubek
Day-Timer Spokesperson
jeff.doubek@daytimer.com
610-530-6506
###