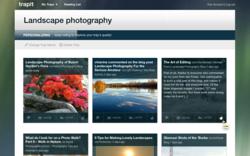 "...We believe the web of the future is personalized, adaptable, persistent and social – all attributes addressed by Trapit." Gary Griffiths, Co-founder and CEO of Trapit
Palo Alto, CA (PRWEB) June 21, 2011
Trapit, the web personalization company, today announced the private beta of its web application for personalized content discovery, delivery and curation. Based on technology from the largest artificial intelligence research project in history, Trapit scours the web 24/7, organizing the best, most relevant content into individual, personalized topic-specific "traps" for easy consumption.
Users simply enter their interests and Trapit finds the most relevant content for them. The result is a uniquely tailored experience that is personalized specifically for the individual user. Over time, Trapit learns more about each user's preferences and interests, and adapts the content it finds to those specific details.
"The ever-increasing growth of content on the web has outstripped current means of finding what is really important," said Gary Griffiths, co-founder and CEO of Trapit. "Trapit is a fundamental departure from the old techniques for finding great, relevant content on the web. We believe the web of the future is personalized, adaptable, persistent and social – all attributes addressed by Trapit."
To get started with Trapit, users set up their own original traps or adopt shared traps based on their interests and other topics that they want to keep up with. Trapit will then recommended pieces of content that fit each trap's theme. Since content is delivered based on personal tastes and preferences, no two traps – even on the same topic – are the same. And once a trap is set, it will continue to deliver relevant content on an ongoing basis. The content Trapit delivers is not derived from keywords, however.
Trapit has mapped the genomic structure of web content – concepts, entities, sources, and much more. In addition, the product uses both passive and active feedback to get to know users even better. As a result, the personalized recommendations become increasingly fine-tuned, continually improving content selection while relieving the time and effort expended by users to discover what they really want from the web.
The typical experience for finding content is to go out and conduct multiple searches or wade through the firehose of social network updates, which return only numerous links that may or may not be of interest to a user. In this paradigm, individuals are forced to choose between the redundant content that their friends shared, or content that a search engine surfaced based purely on traffic and keywords. Trapit turns that model on its head and instead delivers the most relevant content directly to the user.
Born out of SRI International's CALO (Cognitive Assistant that Learns and Organizes) project, the largest artificial intelligence project in U.S. history, Trapit utilizes CALO's advanced technologies to personalize the user experience at the individual level and continually improve with use. Widely considered the most ambitious and successful AI undertaking in history, the project was focused on adaptive reasoning and personalization.
"If you look at a lot of content services today – be they algorithmic, social or something in-between - you'll find the same content from the same sources over and over again," said Henry "Hank" Nothhaft Jr., co-founder and Chief Product Officer at Trapit. "Trapit takes a dramatically different approach to personalization with much more sophisticated technology and a deep focus on the individual. The result is a richer experience, with better content, from a diverse set of high quality sources. The web doesn't have to be an echo chamber, and Trapit delivers on that vision."
Trapit is currently in a private beta as a web app. Sign up for early access here: http://trap.it
Full press materials, including detailed company information, product screenshots, videos and company logos can be found here: http://trap.it/#!about
About Trapit
Trapit is great content, for you. We scour the web on your behalf, 24/7, organizing the best, most relevant content into individual "traps" for easy consumption. Trapit is born out of SRI's CALO project ("Cognitive Assistant that Learns and Organizes") - widely considered to be the most ambitious and successful AI project in history.
Trapit was founded in 2009 and is based in Palo Alto, California. The company is venture-backed by Horizon Ventures and SRI International.
More information about Trapit can be found at http://trap.it/
About SRI International
Silicon Valley-based SRI International, a nonprofit research and development organization, performs sponsored R&D for governments, businesses, and foundations. SRI brings its innovations to the marketplace through technology licensing, new products, and spin-off ventures. Commemorating its 65th anniversary in 2011, SRI is known for world-changing innovations in computing, health and pharmaceuticals, chemistry and materials, sensing, energy, education, national defense, and more.
# # #