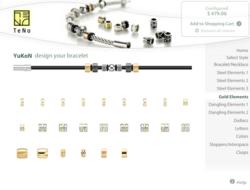 "YuKoN is the perfect gift idea. You can start with a simple bracelet and keep adding elements for each birthday, anniversary...the possibilities are endless..."
Las Vegas, NV (PRWEB) June 21, 2011
TeNo Stainless Steel, makers of fine and unique jewelry, watches and accessories, introduces its YuKoN Creator jewelry designer. The YuKoN Creator allows the consumer to design their own TeNo charm bracelets and necklaces for both men and women in a fun and easy web environment. Customers can save their creation and purchase it right from the TeNo.com website twenty-four hours a day, seven days a week at their convenience.
Customers that visit the TeNo website have three ways of ordering from the YuKoN Collection. First, they may purchase individual pieces a la carte and put them together themselves in any way they wish. Or, they may opt to buy pre-made YuKoN bracelets and necklaces in which everything is already assembled for them. Finally, they may instead choose to use the YuKoN Creator for a truly one-of-a-kind experience. With the YuKoN Creator, the customer can make their jewelry piece from scratch and it will be assembled to their specifications prior to shipping. The site even offers free shipping to the customer and free return shipping in case the customer is unsatisfied.
The YuKoN Creator is a live demonstration of unlimited possibilities. It's a service provided to the customer, allowing them to express themselves and their style. "YuKoN is the perfect gift idea," says TeNo Vice President of Marketing, Nadine Kluger. She adds, "You can start with a simple bracelet and keep adding elements for each birthday, anniversary or whatever. The possibilities are endless and you will never be at a loss for a gift idea."
Popular charms for gifts include the Zodiac, Alphabet, and rainbow elements. Rubber stoppers, in a variety of different colors, are available to insert in between the elements. Each element can be taken off or added on. "Wear the different elements depending on your mood. It's the jewelry that loves change," says the TeNo headquarters in Germany representative.
Celebrities who own TeNo YuKoN include Whoopi Goldberg, Joey Lawrence, Billy Zane, Patrick Stewart, Cedric The Entertainer, and Jessica Alba.
TeNo products are crafted by prestigious German jewelry and watch manufacturer, Heinz Schwarz, GmbH, and distributed throughout the world. TeNo uses new and progressive materials in their creations. TeNo mixes rubber and ceramics with diamonds, sapphires, gold, pearls, wood and steel to design a unique concept for a modern lifestyle, expressing elements of both tradition and innovation. TeNo jewelry and watches are made from the finest stainless steel that is free of nickel. With this successful concept, Tenology is sweeping the nation.
Media Contact:
Nadine Kluger
800-360-2586
nadine(at)teno(dot)com
http://www.teno.com
###