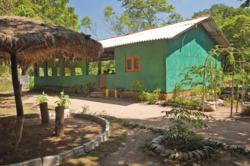 By helping to provide training on organic and sustainable agriculture practices, we are enabling the Sri Lanka farmers to grow their crops without toxic chemicals, thereby increasing their incomes.
Norway, IA (PRWEB) June 21, 2011
On a recent sourcing trip, Kai Stark, Purchasing Manager for Frontier Natural Products Co-op™, saw firsthand the results of a $25,000 Frontier donation to an organic training center for the Small Organic Farmers Association (SOFA) in Sri Lanka. Completed in late 2010, the center has already conducted more than a dozen training classes, educating more than 120 farmers on sustainable cropping techniques such as composting, erosion control, rain harvesting, and natural pest management.
SOFA, a 2,043-member cooperative of small-scale, organic farmers, is Frontier's latest Well Earth™ partner.
Mahinda Karunarathna, the father of two children, is a typical SOFA member. Mr. Karunarathna grows pepper, cinnamon, cloves, nutmeg, ginger and other spices on just a few acres of mountainous land. He also tends a rice paddy and keeps chickens to feed his family. Although his farm and family life are enough to keep him busy, he makes time to share his experience and expertise in sustainable farming methods with other local growers and is one of the trainers at the training facility.
During 2010, SOFA earned a total of $150,000 in Fair Trade social premiums. For communities where farmers typically earn $900 to $1,200 annually, these premiums have funded scholarships and education programs, as well as the construction of clean water sources, schools, and a vast array of other beneficial community projects. And while the premiums made these programs financially possible, volunteers like Mahinda Karunarathna have ultimately brought them to reality.
"Working with these farmers has been an exciting development in our Well Earth sustainable and ethical sourcing program," says Stark. "By helping to provide training on organic and sustainable agriculture practices, we are enabling the farmers to more efficiently and effectively grow their crops and to increase their incomes."
Working directly with small farmers like those in Sri Lanka allows Frontier to expand the number of top-quality organic herbs, spices, and teas that are grown in a sustainable and socially responsible manner. As a co-op owned by the businesses that buy from it, Frontier exemplifies the values of its member/owners – quality products, reliable information, a family-friendly workplace, and environmentally and socially responsible business practices – the values at the core of what is now widely recognized as sustainability.
Frontier Natural Products Co-op™
Founded in 1976 and based in Norway, Iowa, Frontier Natural Products Co-op™ offers a full line of natural and organic products under the Frontier, Simply Organic®, Aura Cacia® and Aura Cacia Organics® brands. Products include culinary herbs, spices and baking flavors; bulk herbs and spices; and natural and organic aromatherapy products. Frontier's goal is to provide consumers with the highest-quality organic and natural products while supporting and promoting environmental and social responsibility.
For more information, visit Frontier's website at http://www.frontiercoop.com.
###