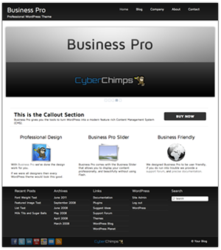 "We took everything we learned while developing iFeature Pro and Neuro Pro, and built Business Pro to be a professional business ready WordPress Theme that is both powerful and esthetically pleasing," said Trent Lapinski, CEO of CyberChimps LLC.
Long Beach, CA (PRWEB) June 22, 2011
Professional Design. Business Pro Slider. Business Friendly.
CyberChimps designed Business Pro on the same solid foundation as the popular iFeature Pro WordPress Theme. Business Pro offers intuitive options enabling any business to easily launch professional WordPress websites.
With Business Pro and WordPress anyone can easily setup the Business Pro Slider which displays content professionally and beautifully without using Flash so it just works on mobile devices such as the iPhone, and iPad. Business Pro also has the same user friendly settings found in all of CyberChimps Professional WordPress Themes making it easy to select a header background color, setup the Business Pro Homepage layout, integrate with social media, display tweets from the Twitter bar, Import / Export theme settings, and select from a wide range of Google Web Fonts.
Business Pro is designed to be as simple to use as possible, but CyberChimps also included advanced features for designers such as Custom CSS, and support for HTML5. Business Pro is built to be business friendly, and includes free updates, as well as precise documentation, and renowned support.
For more information on Business Pro please visit: http://cyberchimps.com/businesspro/
About CyberChimps LLC
CyberChimps LLC is a WordPress theme development and Internet marketing company based out of Long Beach, California. CyberChimps LLC was founded in 2010 by Trent Lapinski, and Tyler Cunningham.
###