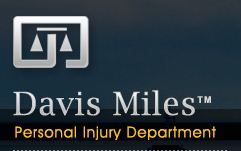 Tempe, AZ (PRWEB) June 22, 2011
Davis Miles and their lead attorneys, Kevin Fine and Robert Tolman, serve the Tempe area in personal injury law. This premier law firm provides the highest quality legal counsel to victims of negligence throughout the Tempe area in both English and Spanish. Mr. Fine has successfully resolved over a thousand injury cases throughout his 17 years in practice and is a recognized trial lawyer, and former President of the Arizona Trial Lawyer Association. He not only has lectured on the numerous legal topics, but is a published author of a book to educate consumers on the process of personal injury claims in car accident cases.
The attorneys at the firm believe a client should be fully informed about their rights and what they could expect in a personal injury case so that they can make informed decisions. The personal injury team at Davis Miles has over 50 years of combined experience, and provides exceptional legal services to their clients. They believe that each client deserves the time, care and concern of their attorney, and they guide them through the process, listen to their concerns and objectives, and provide them with a full understanding of how the process of filing a claim works, what they could expect, how long it could take to settle their case and all their other matters of concern. In serious injury cases, the claim is made a priority and carefully managed from the beginning through to resolution.
The new site created by the marketing team at Scorpion Design allows individuals in the Tempe area to more easily find the law firm and to quickly contact them. The clean, attractive design and informative pages allows individuals who need a personal injury lawyer to more fully understand the process, and the skills and experience of the personal injury team at Davis Miles.
Contact a Tempe personal injury lawyer from Davis Miles for more information.
###