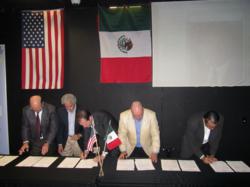 Tijuana, Mexico (PRWEB) June 21, 2011
Tijuana EDC, June 20, 2011- Representatives of Tijuana EDC, San Diego Regional Economic Development (EDC) and business organizations from both countries signed a Memorandum of Understanding (MOU) at San Diego University to promote the bi-national region of Cali-baja that encompasses San Diego County, Imperial County and Baja California, Mexico. This initiative is a major milestone for the region's business community, as the signed MOU begins with a marketing strategy to promote together under the Cali-Baja brand.
"The merge of industrial competitiveness, market access, R&D capabilities and quality of life offered by this region as a whole, allow us to market these assets as a unique value proposal for investors " stated Jaime Gonzalez Luna, President of Tijuana EDC.
Regarding this milestone for binational collaboration, Julie Meier Wright, President of San Diego EDC, commented "Under the MOU, deal flow and transactions with client companies interested in locating to or expanding in Cali-baja will be driven by a regional approach to economic development. This collaborative model will create a significant competitive advantage for our region".
The Cali Baja concept was developed to capitalize on the larger region´s diversified assets and maximize its attractiveness for business investment; this MOU marks the beginning of formal marketing efforts including participation in the Baja's 2nd International Aerospace Supplier Forum to be held in Matrix, one of Latin America's largest maintenance and repair hangars, at the Tijuana International Airport on July 21st, 2011
"Mexico, particularly the state of Baja California, has grown to be a leader in the aerospace manufacturing industry" said Jaime Gonzalez Luna "Our capacity includes engineering, strong intellectual property protection, world-class quality and safety certification. Baja California has the presence of over 50 aerospace and defense companies, which represent 50% of employment in this sector nationwide, we specialize in manufacturing and assemble parts and components for this sector. We hope that by meeting with aerospace companies at the conference we can attract them to the Baja region.
About Tijuana EDC: The Tijuana EDC is a nonprofit corporation dedicated to help companies to establish successful manufacturing operations in }Tijuana, Mexico and to take advantage of business opportunities of vertical integration introducing qualified Mexican suppliers and accessing new markets. For more information on how to take advantage of these opportunities contact the Tijuana EDC at [email protected] or visit their website http://www.tijuana-edc.com
###