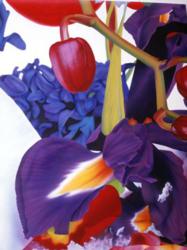 Aspen, CO (PRWEB) June 22, 2011
Galerie Maximillian celebrates Summer 2011 with a fresh and colorful exhibition of five artists inspired by flowers – Seduction: The Allure of Flowers. Featuring works by Marc Quinn, Gary Hume, E.V. Day, Cameron Gray, and Paul Morrison, the collection includes sophisticated, contemporary interpretations of flowers in colorful paintings, photographs and works on paper. The exhibition will run from June 24 –July 24, 2011. From the lush, brilliant colors in Marc Quinn's and E.V. Day's 'larger than life' interpretations of flowers to Gary Hume's more muted and abstract works - not to mention Cameron Gray's show-stopping interpretations of impressionist and modern master works made up of individual hand-painted images of flowers, this show is sure to be a highlight of the summer season in Aspen. Join Galerie Maximillian in Aspen, Colorado as they present the works of these fine British, American, and Contemporary artists.
Galerie Maximillian is located at 602 East Cooper Avenue in downtown Aspen, Colorado. Our friendly knowledgeable team of art consultants have over 40 years of experience in the fine art market. The gallery is open Monday-Saturday from 10:00am until 8:00pm, and Sundays from 11:00am until 7:00pm.
# # #