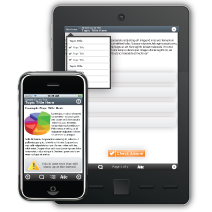 Finally, an authoring tool that exports to desktop and mobile in one hit
Provo, UT (PRWEB) June 21, 2011
Rapid Intake announced today the completion of their powerful new mobile learning authoring tool. With direct integration into Rapid Intake Unison™, the mLearning Studio enables developers to deploy training courses in both Flash and HTML5 formats, allowing learners to access them via a computer or mobile devices (iPhone, iPad, Blackberry, Android phones and tablets). No other tool offers a comparable solution, including leading competitors Articulate and Captivate.
"Finally, an authoring tool that exports to desktop and mobile in one hit," says Rich Chetwynd of Litmos, a Learning Management Solutions Provider. "We get loads of people asking for advice on authoring tools that can target desktop and mobile. People are starting to expect that it's possible but until now there hasn't really been anything on the market."
Rapid Intake mLearning Studio is an enhancement of the Unison eLearning authoring tool and, like Unison, utilizes page templates to create course structures quickly and easily. Developers simply place their text and media files into the forms provided and the mLearning Studio compiles the information into a format that is accessible from iOS, Android, and Blackberry devices.
"Mobile learning is quickly becoming an important supplement to e-learning and is actually overtaking traditional learning methods is a number of companies and schools," says Garin Hess, CEO of Rapid Intake, Inc. "We are happy to provide an affordable and effective solution for this growing need in today's training environment."
To build a project for HTML5 and Flash output, developers simply login to the online interface, access one of the projects listed on their home screen and start adding pages and interactions. In its first version, the mLearning Studio will include support for text, images, audio files, and videos- as well as quizzes containing multiple choice and true/false questions.
"The reason for using rapid development tools is to save time," says Jared Warren, lead developer for Rapid Intake. "We wanted to take the same rapid approach used in our e-learning tools and make it simple for anyone to create a course that can be accessed by multiple devices in multiple formats."
Implementation is simple because unlike other solutions which require developers to build their courses in multiple formats, Rapid Intake will allow developers to build their project once and publish a Flash and HTML5 package simultaneously. Once the package has been loaded onto a server or LMS, learners can access it from either their computer's web browser or a mobile device.
"It is great to witness the arrival of next generation tools like Rapid Intake's Mobile Learning Studio," says Robert Gadd, President of OnPoint Digital, an enterprise mobile learning provider. "Customers who have been seeking ways to continue producing Flash-based content for their online workers can now instantly output those same materials in mobile friendly formats for their HTML5 compatible devices."
One obstacle that many mobile learning solutions face is compatibility with the SCORM standard, which has been used by e-learning developers to track learners and their progress. There are several m-learning options, but few offer the ability to track learner progress directly within a learning management system (LMS). With the new mLearning Studio, developers will be able to deploy their mobile courses using SCORM 1.2, 2004 or AICC standards.
"LMSs are deeply entrenched in the majority of e-learning programs out there," says Steven Hancock, President of Rapid Intake, Inc. "It's always a concern that adopting a new technology will interfere with what's already in place- the mLearning Studio addresses this concern head-on by employing SCORM and AICC compatibility."
# # #