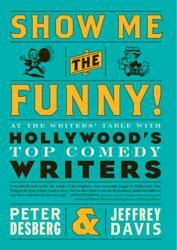 How do Hollywood's top writers from iconic comedy shows and films like Everybody Loves Raymond to There's Something About Mary and Gilligan's Island create 'the funny'?
Los Angeles, CA (PRWEB) June 22, 2011
How do Hollywood's top writers from iconic comedy shows and films like Everybody Loves Raymond to There's Something About Mary and Gilligan's Island create 'the funny'? If you're an aspiring comedy writer or a fan of comedy entertainment – you have the opportunity to not only learn the answer to that question, but the chance to challenge yourself to the same creative exercise that Peter Desberg and Jeffrey Davis posed directly to 28 top comedy screenwriters interviewed in their new book, SHOW ME THE FUNNY!: At the Writers' Table with Hollywood's Top Comedy Writers. Authors Desberg and Davis, comedy writers in their own right, will hold a special workshop and book signing event in which they challenge the audience to "Show Me the Funny!" on Thursday, July 14th at the Barnes & Noble bookstore on 86th Street & Lexington Avenue in Manhattan.
Attendees will enjoy a unique glimpse into the intelligent and quirky inner workings of the comedic mind as Desberg and Davis share their experience interviewing 28 top comedy screenwriters from the revered figures of television's "Golden Age" to today's favorite movie and TV writers. The authors will reveal behind-the-scenes devices and tricks of the trade illuminating the creative process of writers from such shows as Gilligan's Island, Modern Family, Everybody Loves Raymond, Cheers, Frasier and more. Attendees will also be treated to legendary Hollywood stories.
As a Big Apple exclusive, Desberg and Davis will also be sharing comedy writing tips and techniques with the audience, and accepting attendees' own submissions of the comedic premise detailed in the book. Several attendees who come prepared to the event with a pitch will have the opportunity to present it. Attendees who purchase a book exclusively at the event can also submit their pitches within two weeks to the authors via email for consideration. The authors will select the top 5 pitches for publication on their website, http://www.showmethefunnyonline.com, and provide critique and comments to all submissions by August 1, 2011.
About the Event
The event will take place at the Barnes & Noble bookstore located at 150 East 86th Street in New York on Thursday, July 14, 2011. The workshop starts at 7:00PM, followed by a book signing. For additional information, visit the Barnes & Noble website for the Show Me the Funny! event or by calling the store at 212.369.2180.
About the Authors of Show Me the Funny!
One out of every 150 people in America bought a copy of a joke book that Peter Desberg has written. Unfortunately, Scholastic sold the most popular one for $1 each, so he still has to work. Counting his five joke books, he has had twenty books published. In addition to this lucrative writing career, he is a licensed clinical psychologist who specializes in the area of stage fright. He has worked with many top stand-up comedians, who are regularly confronted with massive cases of flop sweat. He also has been moonlighting as a full professor at California State University Dominguez Hills for over thirty years. He has to be a humor expert because he has a daughter who is about to turn twenty-one.
Jeffrey Davis's earliest memories are of sitting around the writers' table at Nate & Al's Delicatessen, where his father and his comedy writer cronies gathered over corn beef and Doctor Brown's Cream Soda, told war stories, and tried to fix third acts. He began his own career writing jokes for Thicke of the Night. Among his situation comedy credits are Love Boat, House Calls with Lynn Redgrave, Give Me a Break, Diff'rent Strokes, and Night Court. He has also written for such shows as America's Funniest People, America's Funniest Home Videos, and Small Wonder, and has had film projects developed by Bette Midler's All Girl Productions, among others. His plays have been produced in New York and Los Angeles. His most recently published play is Speed Dating 101. He is the Screenwriting Department Chair and associate professor of film and TV writing at Loyola Marymount University. His one night of stand-up at the Comedy Store convinced him that he should stay permanently seated at his desk.
For more information and to view exclusive videos of the interviews featured in the book, visit http://www.showmethefunnyonline.com. Fans can also follow the funny for frequent jokes, new videos and comedy tales at http://www.twitter.com/showmefun2 or by liking the Facebook fan page.
###