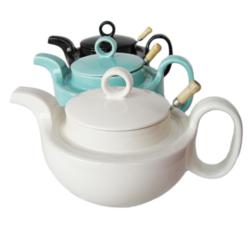 Boulder, CO (PRWEB) June 21, 2011
The Tea Spot will be exhibiting at the World Tea Expo in the Las Vegas, where they will once again unveil new products that make loose leaf tea easy. The company will launch their latest Steepware® innovation, the Mod Teapot, and announce general marketing availability of the patent pending BrewluxTM compostable tea infuser for loose tea to go at the expo this week.
The Tea Spot's line of Steepware® products make it easy for today's savvy tea drinkers to prepare a luxurious cup of loose leaf tea. Infusing the loose tea experience with modern technology and design, Steepware® products bring convenience to the quality and integrity of full leaf tea.
The Mod Teapot is a stylish design inspired by ancient tea traditions. It will be available in three colors – Ivory, Turquoise and Black. The Mod Teapot is designed by The Tea Spot and manufactured in Thailand of high quality stoneware ceramic. This 20 oz teapot makes 1 - 2 servings of premium tea. It has a large volume fine mesh Stainless Steel loose tea infuser with a wood handle. The ergonomic design features a dripless spout and a silicone seal lid. The Mod Teapot will retail for $39.95.
BrewluxTM will be announced for general availability exclusively through The Tea Spot at the Expo. Manufactured in Colorado from U.S. grown corn, this compostable tea filter was awarded "Best New Product" at the 2010 World Tea Expo. The BrewluxTM design is patent pending. The Tea Spot was awarded a grant by the USDA to do a marketing feasibility study on this compostable tea filter last year, and conducted preliminary consumer research on the product's pricing and positioning at the 2010 Las Vegas show. BrewluxTM is now available for distribution, and The Tea Spot will be taking orders for the product at the Las Vegas show. Brewlux tea filters will retail by the case at $38.00 for 200 units.
The Tea Spot will be exhibiting at booth 101 at the World Tea Expo, taking place at the Las Vegas Convention Center, June 24-26, 2011.
ABOUT THE TEA SPOT, INC. Based in Boulder, Colorado, the company was founded in 2004 by Maria Uspenski, a cancer survivor drawn to the health benefits of tea during her recovery. She set forth to promote wellness by making loose-leaf tea an everyday luxury. Her message is simple and powerful: tea in its freshest form renders incredible flavor, unmatched health benefits, and is eco-friendly. As a certified woman-owned and operated business, The Tea Spot produces innovative and patented products to modernize the loose-leaf tea experience. The Steepware® line promotes the ease of loose tea preparation and individualized single servings. Their line of full leaf teas includes organic and Fair-Trade Certified™ estate teas and handcrafted signature blends. The company is committed to clean, sustainable, and fair manufacturing standards. The Tea Spot's mission of social entrepreneurship incorporates a culture of giving as it grows: Ten percent of every sale is donated in-kind to cancer and community wellness programs. For more information, contact [email protected] or call 303 444 8324.
###