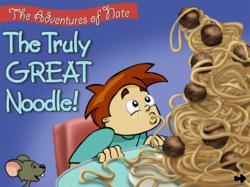 "We are committed to creating products that entertain, enlighten and engage young readers" Sam Berman
Los Gatos, CA (PRWEB) June 21, 2011
Grids Interactive, an independent digital publisher of original interactive storybook apps, today announced the launch of The Truly Great Noodle, their first digital book for the iPad. The Truly Great Noodle, now available for purchase on iTunes for $3.99, has been designed by the finest writers and animators to enhance the imagination of young readers. Loveable characters spring to life through animated elements on every page.
The company's first release, The Truly Great Noodle, is a magical, immersive journey through the main character Nate's town as he attempts to eat his dinner: a never-ending noodle that seems to have a mind of it's own. The story includes innovative features such as interactive touch screen animation, highlighted word associations and originally composed music. Parents can choose classic storybook narration or record their own voice for playback.
"We are committed to creating products that entertain, enlighten and engage young readers," said Sam Berman, Co-founder, Grids Interactive. "Our goal is to utilize newly developed and emerging technologies to inspire children to read, enhance their creativity, and open their minds to all things possible."
Grids Interactive is changing the way young readers engage with characters, words and stories by blending original content and interactive illustrations with emerging technologies in tablet computing. Grids Interactive seeks to inspire the new generation with a passion for reading and learning. The company has also partnered with Kids Against Hunger, a charitable organization that will receive a portion of the profits from the app, as it will do for each of its subsequent releases.
The Truly Great Noodle is available for purchase in the iTunes app store for $.99 through July 3rd. After July 3rd the book will be available for purchase for $3.99.
About Grids Interactive:
Founded in 2010, Grids Interactive is an independent publisher of original interactive storybook apps. They are redefining the way children read, learn and engage with their stories. For more information on the company and future books, please visit http://www.gridsinteractive.com.
Media contact:
Tara Wagner / 917-509-5399
press(at)gridsinteractive(dot)com
# # #