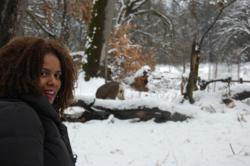 "It has been proven in numerous studies that travel reduces stress, and increases your tolerance for other cultures."
Chicago, IL (PRWEB) June 22, 2011
Lifestylist, travel writer and consumer engagement expert, Jetta Bates-Vasilatos serves as a special contributor to this month's issue of Essence magazine, while celebrating the launch of her new interactive website jettasetting.com. Entitled "Dealing You In" (page 111), Bates-Vasilatos shares her secrets on luxurious, yet savvy living.
Whether it is a tête-à-tête with Robert Downey, Jr., or dining on barbequed dog in Korea, you will find Bates-Vasilatos, whose open mind and aversion to the status quo has allowed her the freedom to seize the moment. Even if that moment is being kissed on the cheek by Tom Cruise and a giraffe (not at the same time), giving Jeremy Piven advice to get his groove back or partying with De La Soul. Not to mention her award-winning work with Wal-Mart and brand giants such as BMW and Coca-Cola.
Bates-Vasilatos describes her ideology as "luxenomics" or "how to save and be sexy simultaneously." In the feature, Bates-Vasilatos provides insightful tips, from common courtesy to the value in being a loyal customer. Bates-Vasilatos also highlights 25 bargains and fabulous freebies that ladies who love the princess treatment will appreciate.
As for travel, Bates-Vasilatos doesn't just cover destinations; she believes travel is a must and advocates for people to go beyond the concierge. "It has been proven in numerous studies that travel reduces stress, and increases your tolerance for other cultures," Bates-Vasilatos says. "Life should be a global journey chock full of deliciousness and learning experiences."
Bates-Vasilatos has written extensively about her travels to Alaska, Japan, Kenya and Cuba in national publications and through her lifestyle blog "Jettasetting."
Bates-Vasilatos, who recently hosted WCIU-TV's "Living Luxe on a Budget" now brings "Jettasetting" to WVON 1690AM every Thursday morning, where she shares fresh and exciting lifestyle ideas, savvy shopping tips, unique experiences in shopping, traveling, dining and cocktailing. She has appeared on WCIU-TV, ABC-7, CLTV, KBS-TV (Korea), and KBC-TV (Kenya).
About Jetta Bates-Vasilatos:
Jetta Bates-Vasilatos is the Founder/Chief Strategist of Twist Communications. She earned her Bachelor of Arts degree from the School of Communications at Columbia College. Bates-Vasilatos is a board member of the Sinfonietta, Alliance for Women in Media Chicago, and Power: Opening Doors for Women. Her impressive array of awards includes two President's Clubs and the Gold SIAA award for public relations excellence. Her work with Wal-Mart won six Telly honors and an International Cinema award. Bates-Vasilatos is a public speaker and panelist for national events.
Visit her website and blog at jettasetting.com, follow her on Twitter @jettaset or find her on Facebook: facebook.com/jettsetting.
For interviews, TV analyst/expert commentary/contributor requests for Jetta Bates-Vasilatos contact publicist A.C. McLean on TEL: (312) 373-1778.
###