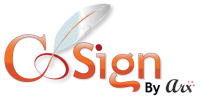 Using CoSign allows signers to use the password they work with on a regular basis, and have a peace of mind that it is being done in a secure manner.
San Francisco, CA (PRWEB) June 23, 2011
ARX (Algorithmic Research), a leading provider of digital signature solutions, has implemented a CoSign digital signature solution at the Tarrant Regional Water District (TRWD), the raw water supplier to over 1.8 million people in North Central Texas. CoSign has been integrated in TRWD's homegrown Web-based workflow application for employee evaluations, which is used by all of the District's 200 employees.
"We're trying to make our business more electronic, less paper-based," explains Jl Cabrera, Business Applications Manager, TRWD. "It's been difficult to receive a document electronically, print it out, sign it, scan it back, and then save it digitally. So, we needed some way to enable our employees to sign electronically and securely – there was a real business need for digital signatures to be part of the technology here at the District."
TRWD's use of digital signatures for web applications is designed to simplify the elaborate process of employee evaluation. The application has a .NET framework and uses Windows Workflow Foundation as its workflow engine. CoSign's tight integration with the organization's Active Directory® environment allows signers to use the same login credentials and password they would use otherwise, allowing for maximum ease-of-use and efficiency.
"In the past, our employees were required to maintain different passwords and accounts for different software programs. Specifically, it was a problem with the employee evaluation system because evaluations are only completed once a year, and our employees had trouble remembering their program-specific password. We lost valuable development time trying to retrieve or reset those passwords for them," explains Cabrera. "Using CoSign and allows signers to use the password they work with on a regular basis, and have a peace of mind that it is being done in a secure manner."
TRWD is now in the process of automating a variety of other workflows, and intends for CoSign to play a role in each of them. Some processes that will incorporate digitally signing via CoSign include travel requests, expense reports, contracts, and various HR applications such as mid-term raises.
"It's very exciting to see how organizations such as the Tarrant Regional Water District are utilizing the CoSign SAPI® (Signature API) in their automation efforts," said Gadi Aharoni, CEO, ARX. "It shows the type of impact paperless approval processes can have, which is a visibly profound one."
About Tarrant Regional Water District
The Tarrant Regional Water District owns and operates four major reservoirs, and has constructed more than 150 miles of water pipelines, 27 miles of floodway levees, more than 40 miles of Trinity River Trails and a 260 acre wetland water reuse project designed to increase future water supplies for the area. TRWD provides water to more than 1.8 million people in the North Central Texas area. The Water District's engineers work closely with other organizations such as the National Weather Service to gather data and provide information to the public during emergency situations.
For more information please visit http://www.trwd.com.
About CoSign Digital Signatures
ARX (Algorithmic Research) is a global provider of cost-efficient digital signature solutions for industries such as life sciences, healthcare, government, engineering, and energy. ARX's CoSign digital signature solution automates approvals affordably in a compliant manner, allowing organizations to go paperless, expedite business processes and save costs. CoSign is the only digital signature solution that is seamlessly integrated with Microsoft SharePoint and other popular DM/ECM solutions. CoSign signatures are globally accepted by external partners without the need for proprietary-validation software. CoSign is also centrally managed through the organization's user directory for reliable control of signature privileges, and ease of use and administration. Learn more about the CoSign digital signature solution.
CoSign is a registered trademark of Algorithmic Research, Ltd. All other trade names and trademarks are the property of their respective holders.
###