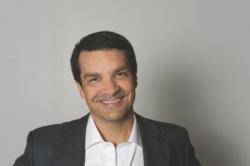 Bangkok, Thailand (PRWEB) June 23, 2011
Ruben Toral, CEO and Founder of the international doctor directory Medeguide, is featured in the recently published book "Aerotropolis -- The Way We Will Live Next" by John Kasarda and Greg Lindsay.
Aerotropolis, published by Farrar, Straus and Giroux, focuses on the role airports play as centers of economic development in the 21st century and how speed is a key competitive advantage in today's globalized economy, as evidenced by the success of companies like FedEx and Apple. The book has been positively reviewed by BusinessWeek, New York Times, The Wall Street Journal and the Financial Times among others.
In the book, Lindsay interviews Toral for a section entitled "Medical Leave" and writes extensively about Toral's role as a pioneer in medical tourism and the lead architect of Bumrungrad International hospital's position as industry icon. Under Toral's guidance, the hospital's international patient volume culminated at 450,000 patient visits per year, and was featured prominently in international media, including the award-winning program 60 Minutes.
Lindsay first interviewed Toral for a story that appeared in Fast Company in May 2008, at the suggestion of John Kasarda, Kenan Distinguished Professor of Entrepreneurship at the University of North Carolina at Chapel Hill Kenan-Flagler Business School and director of the business school's nonprofit outreach arm, the Frank Hawkins Kenan Institute of Private Enterprise. In Kasarda's eyes, medical tourism is the manifestation of his theory that proximity is no longer a competitive advantage if better, faster and cheaper options exist only a plane ride away.
Both Toral and Kasarda see healthcare transforming from a locally delivered service to a global one. As Toral wryly puts it, "if Toyota shops globally to get best products and prices to build their cars, why shouldn't employers shop globally to get the best products and prices in healthcare?"
Toral is actively working as a consultant to insurers, employers, hospitals and governments to develop new models to deliver healthcare globally. As part of his healthcare globalization initiatives, Toral founded Medeguide, a consumer website that features top doctors from leading international hospitals around the world.
About Ruben Toral
Ruben Toral is a recognized expert in healthcare marketing, medical tourism and healthcare globalization. Mr. Toral is the CEO and founder of Medeguide, an online international doctor directory, and CEO of Mednet Asia Ltd., a strategic consulting firm that provides branding, marketing and business development services to hospitals, medical tourism promotion boards and insurers worldwide. With over 17 years of experience in healthcare marketing, Mr. Toral has built businesses, brands, and physician networks in Asia, Latin America and North America. Formerly Group Marketing Director for Bumrungrad International hospital in Bangkok, Thailand, Mr. Toral is widely credited for pioneering medical tourism and positioning Bumrungrad International as the world's leading medical tourism destination.
About Medeguide
Medeguide is an international doctor directory listing quality doctors from leading hospitals in top medical travel destinations. Popular with expatriates and medical tourists, Medeguide allows users to find doctors by country, hospital, specialty, procedure or condition. Users can view and compare doctors without the hassle of going through multiple hospital websites. Medeguide's powerful, easy-to-use online platform enables users to get recommendations about doctors from other patients, request appointments, and read articles about top doctors, treatment options and destinations.
For more information contact:
Leanne Gryga at leanne.gryga(at)medeguide(dot)com. Tel: + 66 2 762 7851. Medeguide (Thailand) 165 Sukhumvit 49, Bangkok 10110 Thailand. Medeguide.com
###