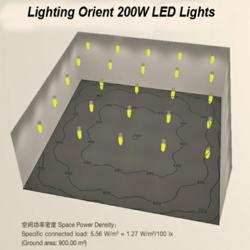 (PRWEB) June 23, 2011
Lighting Orient announced the launch of 200W LED industrial lighting on June 13, 2011. This item can replace traditional 400W Metal Halide lights.
Leo, CEO of Lighting Orient said. "We are very excited to release the 200W version." 400W metal halide lights are one of the most popular traditional light sources. 200W LED industrial lighting not only saves 50% energy, but also saves on maintenance costs. LEDs are maintenance free. It comes with a 3 year warranty. 400W metal halide bulbs are cheap, but they need to be replaced every year. Labor and replacement costs are very high. So, many contractors are looking for solutions to replace 400W metal halide lights. Lighting Orient 200W LED industrial lights are the simplest solution. Direct replacement is available. It saves both energy and money.
400W metal halide lights are very powerful. Is 200W LED Lights enough? People may have many questions. So, Lighting Orient did a comparison test with 420W metal halide lamps from a famous brand.
1. Test Environment
1.1 30M*30M workshop. (105ft*105ft)
1.2 Installation Height: 10M. (32.8ft)
1.3 Distance between fixtures: 6M*6M. (19.7ft*19.7ft)
1.4 Total quantity: 25 units 200W LED Lights VS. 25 units 420W Metal Halide Lights
2. Space Power Density Comparison
According to pictures two and three, specific connected load of Lighting Orient 200W LED Industrial lights is 5.56W/m2 = 1.27 W/m2/100 lx (Ground area: 900.00 m2)
Specific connected load of 420 Metal Halide lights is 11.67W/m2 = 2.65 W/m2/100 lx (Ground area: 900.00 m2)
3. Illumination Comparison
According to pictures four and five,
Average Illumination: 429lx VS. 427lx
Minimum Illumination: 207lx VS. 246lx
Maximum Illumination: 568lx VS. 544lx
According to test results above, Lighting Orient 200W LED industrial lights can replace 420W metal halide lights. It saves over 50% energy with similar average illumination.
Lighting Orient is LED Lighting manufacturer.
###