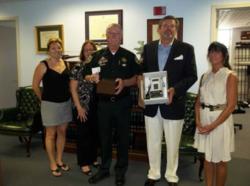 Many Thanks to the Monroe County Coalition for providing a Free ID Scanner!
Bronxville, NY (PRWEB) June 23, 2011
Abel's Tackle Box of Islamorada, Florida received a free ID Scanner worth $900 courtesy of the Monroe County Coalition for a Safe Drug Free Community. The Coalition provided a Tokenworks IDVisor Z22 Countertop ID Scanner for a raffle contest as part of their Safe Summer Campaign. The campaign offers number of sessions to vendors in the middle and upper Florida Keys to help keep alcohol out of the hands of persons under 21. The sessions inform vendors of ways that youths access alcohol and offer solutions for businesses to help protect their liquor licenses.
The Monroe County Sheriff Bob P. Peryam drew the winner of the free ID Scanner. The Monroe County Coalition for a Safe Drug Free Community, directed by Susan Moore, provided the Tokenworks ID Scanner as an incentive to engage local businesses in youth alcohol awareness. Board members present at the time of the drawing included Debra Bent, Anne Baird and Bill Embry. The Monroe County Coalition works with many community groups to enact change through environmental strategies, evidence based programs, and practices and policies to reduce alcohol and drug related consequences. The Coalition works in partnership with the Monroe County Schools, Monroe County Sheriff's Office MSCO, Key West Police Dept. KWPD, Dept. of Health and Students Working Against Tobacco, Dept. of Juvenile Justice DJJ, Guidance Clinic/Care Center, Human Services Associates HSA, A Positive Step of Monroe County, Island 107 Radio, parents, businesses, youths and others.
Tokenworks is a New York-based manufacturer and retailer of ID Scanning solutions. The IDVisor Z22 CounterTop ID scanner provided to the Coalition offers an easy-to-use method for businesses to read and capture ID data from drivers' licenses, State IDs, military IDs, and Canadian IDs. Operation is simple and fast – the user simply swipes or dunks the ID into the card reader and the age is displayed on the screen. Concise OK / Not-OK icons help the operator quickly determine whether the patron is old enough to purchase alcohol or tobacco. The operator can compare the machine read data to the information printed on the card to help find fake IDs.
Tokenworks' ID Scanners are one of the best tools for businesses to fight underage purchases and consumption of alcohol and age related products. They provide a substantive record of verifying age before purchase, which can be used in an affirmative action defense to protect a business's liquor license. Tokenworks offers a full-range of ID Scanning products for all applications. Their latest model is the IDVisor Touch, which integrates customer relationship management features like visit counts, phone/email capture and custom tags into its core ID Scanning capabilities.
To assist with the Coalition's mission of keeping alcohol out of the hands of persons under 21, Tokenworks is offering a 10% discount to liquor licensees in Monroe County until September 1, 2011. For more information on the Monroe County 10% discount or Tokenworks products, please contact Tokenworks at http://www.idscanner.com or 800-574-5034. Ask for Charles and mention the Monroe County Coalition.
About Tokenworks
Founded in 1998, Tokenworks provides a full-range of magnetic stripe and barcode ID card scanners for age verification and lead capture. Tokenworks is located in Bronxville, New York and sells across the United States and Canada. Visit http://www.idscanner.com to learn more or buy online. 1-800-574-5034 / info(at)tokenworks(dot)com.
###