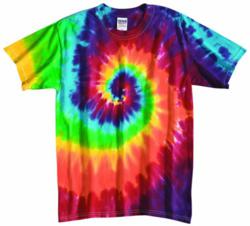 "The cinch packs are so popular we can't keep them in stock" says Scott Marino, President of TieDyeMania.
Cranford, NJ (PRWEB) June 23, 2011
Tie Dye trends are still hotter than ever this summer! Tie Dye fashion and accessories are a trend that was born in the 70's and remains a part of our culture today. Tie Dye looks are continuing to develop from mainstream t-shirts and dresses to leggings and scarves. TieDyeMania.com has introduced even more exciting tie dye options!
For 2011 TieDyeMania introduced retro swirl cinch packs, tote bags, barbeque aprons and pillow cases. The company started with simple tie dye shirts offerings for schools, groups and organizations. Offerings have increased market share by broadening into new categories. "The cinch packs are so popular we can't keep them in stock," says Scott Marino, president of TieDyeMania. The colorful barbeque aprons are fun item for to offer customers. Traditionally aprons have been traditionally available in basic solid colors, now there is a fun alternative.
About the Company
Tie Dye Mania is a division of Panda Apparel LLC which carries high quality, 100% cotton tie dyed t-shirts. http://www.TieDyeMania.com is the retail branch of the company dedicated to selling tie dye tees. The companies mission: to make the world a more interesting place, one shirt at a time.
Panda Apparel, LLC was formed in 2007 and is owned and operated by Scott and Donna Marino. The two share over 25 years of experience in the apparel industry and 14 years of online specialty retailing. All of the company's divisions are committed to protecting and preserving the environment. As an international business, Panda Apparel, LLC is committed to the improvement of the worldwide state of human rights and environmental degradation.
###